Holocaust survivors share lunch and stories with West Milford High School students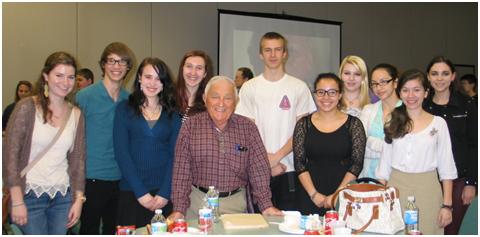 As part of Holocaust Remembrance Day commemorations, West Milford High School students were afforded the opportunity to share lunch with Holocaust survivors at the Metrowest JCC in Whippany, NJ.  On April 17th, over eighty high school students entered the exhibit entitled "From Memory to History," where survivors and docents showed pictures of their families, their homes, and their incredible journeys.  Junior Gillian VanHouten whispered, "I can't wait to meet Fred," referring to Fred Heyman, a survivor from Berlin.  Others – including seniors Erik Ostlund and Cathy Heusser – sought out Harry Ettlinger, one of the last living Monuments Men.  The work of the Monuments Men, recently portrayed by actors George Clooney and Matt Damon, was the American effort to preserve Europe's precious artwork in the final days of WWII.
The lunchtime event featured eight-person tables, so that survivors could speak more intimately with students.  The sprightly Dr. Karl Dubovy, a Slovakian survivor, told freshmen Shawn Mageean and Christian Kubelle about his harrowing journey to Auschwitz.  Remarkably, and possibly because of his train's arrival to the death camp on December 23rd, the train was turned around and rerouted to the Czech concentration camp at Theresienstadt.  Freshmen Lucas Zemser and Alex Metcalf also met Bob Max, an American GI who was caught behind enemy lines and survived forced labor under the Nazis.
Seniors Olivia Whelan and Sam Mantione retold stories on the bus home, lamenting, "I just wish we had more time."  Teachers Kathleen McCort and Jennifer Metcalf, who accompanied the group, wholeheartedly agreed.