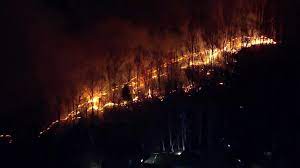 Wednesday April 12th 2023 a wild fire by the rest stop leading to Echo Lake on 23 broke out. It quickly began to spread and it was becoming uncontainable. Over 155 firefighters were on the scene trying to stop the spread of this fire the best they could. Helicopters circled and dumped water on the fire, and  Echo Lake Road was closed between Route 23 and Macopin Road. For a while units were able to contain the fire,, but eventually the fire jumped to the East Side of Echo Lake. The fire spread to Gould Road and Maple Road causing that side of Macopin to close. To keep people from trying to go that way the other side of Macopin was also closed and people were told to take Germantown Road. While this was going on, a powerline fell by the transportation area by the school and caused another fire to start. Rumors quickly spread that the fire had jumped to the transportation area. It is also rumored that the fire started due to a cigarette butt, but this is not conclusive at this time. 
At one point the fire stood at 400 acres destroyed and 40% contained, zero structures were threatened, then, within two hours, 648 acres were destroyed, it was 25% contained, and 10 structures were threatened. 
Overnight, the Forest Fire Service completed a backfiring operation to help contain the blaze and many surrounding towns came to help in any way they could. All day  sirens and the lights were flashing. Firefighters fought long and hard to regain containment of the fire in the scorching hot days. Until finally 8:30 Friday night, the fire was 95% contained, and would finally be put out Saturday morning. With a total of about 1000 acres being destroyed, some homes ruined and people evacuated, we are lucky it only took three days to put out how dry it was. Now we wait for the regrowth of the forest over the next couple of months but West Milford will never forget this tragic but yet also fascinating event.