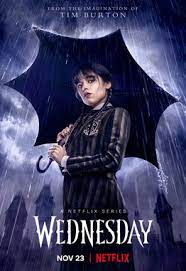 Netflix was booming when the new hit show "Wednesday" came on the scene. "Wednesday" is a spinoff of "The Adams Family", with this specific series focusing on Wednesday, the daughter of Morticia and Gomez Addams. Wednesday is the odd kid out. She likes very dark, morbid things. She doesn't show any emotions. She has no friends, however, the one person she protects and has the patience for is her little brother. Wednesday and her brother both attend a regular, "normal" high school.
Wednesday and her brother, Pugsly, stand out not only because of who their parents are, but also because of how they dress and present themselves. Sadly, Pugsly  gets picked on and when anyone messes with her little brother, Wednesday has no mercy. She tortures people and causes pain for fun. She finds it amusing. Her whole family is kind of odd in a funny way. Her mom and dad are so invested in one another you can feel how uncomfortable it makes the kids feel. 
After another mishap at yet another school, Wednesday has no choice but to go to Nevermore Academy, a school for "weird and troubled" kids. She doesn't want to go there, but she has no choice. After looking around the school, she meets her new roommate, who is the complete opposite of her. Her roommate's name is Enid and she is bright, optimistic, and happy, whereas Wednesday wants to be alone, shows no emotion, and is always negative. That is shown especially in Enid's side of the room which is covered in color, compared to Wednesday's side which is black. Something about Enid and Wednesday together just works, however, and in the end, they become true best friends shown in the final scene when Wednesday finally hugs Enid back for the first time. 
Wednesday finds out that her mother also went to that school.  Wednesday realizes that a secret club wants her to join, but she doesn't want to, because she likes to be alone and work alone, especially after she finds out her mother was in that same club. She doesn't want to be like her mother; she wants to be her own person and find herself, not follow in her mothers footsteps. The least of her problems is falling in love with someone and being only invested in them. She wants to do something with her life. 
Eventually, Wednesday starts to have visions of what is to be in the future; her mom also was able to have these visions. However, instead of going to her mom for help about what to do or how to handle these visions, she decided to deal with them, yet again, by herself. Later one of her ancestors comes to her in a vision and tries to tell her to believe everything she is seeing and hearing in these visions.  Is this ancestor right? You'll have to watch this entertaining show to find out. I highly recommend it!