Polar Express movie night delivers nostalgic Christmas cheer to the class of '23
The senior class is celebrating their last Christmas together with a tradition from Christmases past; a good old-fashioned viewing of the classic 2004 film, "Polar Express". Many of today's students will fondly remember the seemingly endless days in elementary school before winter break, when teachers would pass out coloring sheets, distribute hot cocoa, and project the film onto the whiteboard. In the gym on the evening of Monday the 12th, members of the senior class, clad in their most comfortable pajamas and with blankets and pillows in hand, took to the gym for a viewing of the film. Twinkling Christmas lights adorned the floor and the gym's projection screen was dusted off, making for a truly unorthodox movie theater experience.
"Polar Express", based on the story by Chris Van Allsburg, tells the story of a young boy rediscovering the magic of Christmas on a North Pole-bound train ride through iconic motion-capture CGI animation. It deals with themes of believing in magic, spreading the Christmas spirit, and helping those who care less fortunate, all while being backed by a beautiful choral soundtrack. The entire film is wrapped in a strange but beautifully nostalgic feeling, one that many seniors remarked reminded them dearly of past years' Christmases.
Before the movie was shown, students had the opportunity to buy concessions before settling in. Offered were a variety of movie and holiday snacks — chocolate covered pretzels, christmas cookies, bags of sour candy — and, of course, the classic hot cocoa, made to order. Upon purchasing tickets, seniors were handed large golden train tickets that imitated those in the film.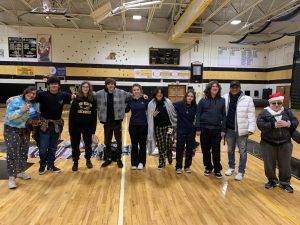 It was a number of similar touches made the night, which was planned and run by the 2023 Senior Class Council, all the more memorable. The event was one of the first that has been organized by the group and Senior Class Advisor, Mrs. Sarah DeMicco, in order to raise money for future expenses; namely that of Senior Prom, which, when all expenditures are added up, can become quite costly. In order to better gauge the wishes of the student body, the class council has utilized the power of social media to collect student ideas via a set of polls on the westmilford23 Instagram page.
Mandi Dellagicoma, a member of the Senior Class Council and manager of the class Instagram account, says that the council had "lower expectations for the event because the last few activities we have tried to run were subpar. We were, however, pleased with the outcome of ["Polar Express"] and are now optimistic for the future." Based on the turnout of this particular event, though, Dellagicoma ensures, "We are talking about doing more events like these, but nothing is set in stone yet." It seems like the holiday magic of "Polar Express" has mustered up an unprecedented amount of buzz and school spirit that other events couldn't.