Is It The Most Wonderful Time Of The Year?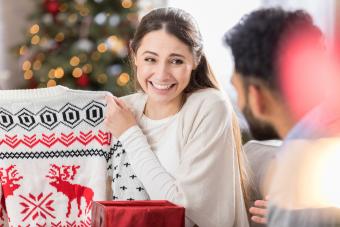 Christmas! It's known as the most wonderful time of the year! You're getting ready to listen to Michael Buble's "It's Beginning to Look a lot Like Christmas" while decorating the tree. You want to sit on the couch with a nice cup of hot chocolate while watching those cheesy and predictable Hallmark movies. For weeks your mind can only think about what you would like to give your friends and seeing their reactions to their presents. Your mouth waters thinking about those Christmas cookies you are going to devour after you eat that delicious Christmas dinner. But do you ever think about the stress that comes with the holiday season? 
What about the parents who work night and day and then go to twenty different stores, or shop online for hours just to get you the presents you asked for? How about the families who host the Christmas festivities and all the work that goes into that cooking and cleaning? Then, there is the stress from a kid's perspective. Christmas can be different for the teens getting older. They begin to believe that Santa isn't real anymore and it's time they act like adults at Christmas time for the dinner or events, and some of the magic is gone.  With this being said, is it really the most wonderful time of the year? 
             Gift giving is hard. Finding the motivation to go out to stores and get the items on the  lists of things that your family and friends want is tiring. One would think "Oh, I can just get that online" and that's all dandy and easy until the estimated delivery is right before Christmas or even better, right after. How do you give a late Christmas gift? On the topic of shopping, Black Friday has to be mentioned. Once those Black Friday sales go up and those people who want to save money come out, it is a literal combat zone. Black Friday is where all the crazy people can shine and all the store workers are yelled at by tons of customers and the check they get isn't nearly what they deserve. Then, 87% of the time the normal shoppers can't even find what they are looking for because the item is all sold out. You also need to have money to buy these gifts, and not having enough can really put a damper on the holiday. 
Wrapping these gifts you worked so hard to get is also so time consuming. Your fingers start to cramp from holding the paper in the right spots and dents from holding the scissors start to form. Even though this whole process of gift giving can be hard, there is always the bright side of seeing the smiles on the faces of the ones you love.  
Kids during the holidays can have just as much of a struggle as adults do. It is hard to believe, I know. The holidays are known for making kids the happiest. They get endless sweets and tons of presents from all of their family. But, once you get older, the whole vibe of those happy days changes. Santa isn't real anymore and those elves that you were so forbidden to touch aren't actually reporting back to Santa. Now there is a chance that you're on elf- moving duty instead. Those questions that wander your brain throughout the Christmas days don't matter anymore. What did Santa get me? Did he eat the cookies I laid out? That can be really depressing. 
Getting gifts is awesome and you get to spend time with your family, but that can be…well, not all that great either. There are those gift givers who can give really childish gifts or just give things that aren't really enjoyable to you. You don't want to seem ungrateful because they thought of you and wanted to get you something, so you just have to put on that fake smile and throw out a, "Thank you! I love it!" knowing you probably aren't going to get much use out of it. 
Being social is a huge factor of the holidays. Talking to others can be much harder than you think. Siblings are coming home from college, adding another dynamic back into the household. During Christmas, there are those families that see each other often and celebrating Christmas isn't that big of a deal. Then there are the families where this is the one time a year they get to see each other. and some kids aren't just going to go up to their aunt or uncle that they see once a year and tell them the new gossip that is going on in their life. You are more than likely going to be more comfortable talking to your relative that you see every single day then your aunt that you maybe see two times a year. 
Being positive during the holiday season is very important, especially because focusing on the negative is so easy. The stress of those gifts and the social anxiety of seeing family members can outweigh the positives for some people and it is okay to feel this way during a time where happiness is supposed to be felt. In order to make this Christmas season better and more enjoyable for you, find comfort in the ones around you. Surround yourself with those that make you laugh and feel comforted and know that after the holidays you still have a few days for yourself before the new year and school starting back up again, so there is that.  There is bound to be at least one positive thing for everyone, so enjoy the break and see you in 2023!