Jesse's Kettle Bar and Deli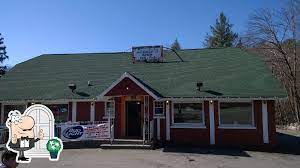 Jesse's Kettle is a little deli and bar just past Shoprite going into Awosting. The original Jesse's Kettle burnt down in a fire in September 2012 and they had to move their location. It is a great place to visit to eat and is also a great place to work; everyone is friendly and the food never fails to satisfy. Jesse's welcomes new people and everyone there knows one another, there are places to sit and always someone to talk to, it's a good environment to become friends with the cooks Debra Schackmann, best known as Deb, and Samantha Mathews–your life will never be more entertaining! They love to crack jokes with the regulars (that could be you one day ;)! From the breakfast sandwiches, to homemade soups, to the prime rib Wednesdays, the burgers, and the many kinds of french fries, people from all over stop in to grab a bite to eat or just grab a quick snack. They have many options such as chips, candies, many drinks hot and cold.  Don't forget to grab your puppy a little dog bone too. The owner of the place is actually named Jesse; her dad named the business after her hoping one day she would take it over. However, until then, the owner Tony Grippo and his girlfriend, Deb, run the place. Deb is one of the kitchen cooks; she works nights and Samantha Mathews works days. Both are fantastic cooks. Every Wednesday is prime rib night, one of the most popular nights. Every Sunday, Monday, Tuesday they have 75 cent wings where you pick as many wings as you want, along with one of the many different kinds of sauces.  They have a variety of affordable meals, including the prime rib on Wednesdays, which is only $16.99 .They also have a pool table where pool leagues will come in to play. You can always play pool but on those nights the leagues will come in and then the bar gets busy with tons of food and drinks, music and everyone talking or everyone. It's a good time filled with laughter and good conversation. 
For Breakfast you have wraps, sandwiches, platters, bagels, such as Taylor ham, egg, and cheese, French toast, Western omelets.  For lunch there are cold cuts, also other options such as wraps and grilled chicken, some salads such as chicken salad, tuna, and egg salad.  Maybe you would like a side of Macaroni salad or potato salad with that? For dinner you have the specials, one of which is the Prime rib dip. Other dinners may include chicken or homemade meatball parm, pizza, or chicken wings with many different sauces to go on them.
Jesse's Kettle is always looking to hire people for nights, days, and cooks! If you are interested, call the store, ask for Deb and give her your information.  You can find them located at 1555 US-511, Hewitt, NJ 07421. If you ever happen to be driving past, stop in and give it a try. They may even be looking to hire, and summer is right around the corner!