Students explore options at college fair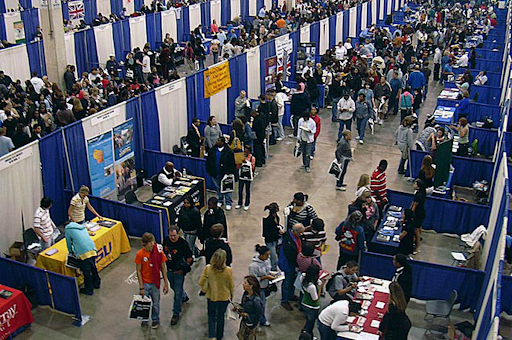 Many kids have a hard time thinking about their future. College is a very stressful topic for many high school students and who could blame them? It is a major life decision and it can weigh heavily on anyone as they decide where to spend the next four years. A popular way of looking at all of your college options is at a college fair. 
On April 20th the NACAC held a New Jersey National College Fair at the Meadowlands Expo Center in Secaucus, New Jersey. There were over 300 colleges and universities set up in booths at the fair. WMHS sponsored this trip and offered it to students at no cost. This was such an amazing opportunity for students to get in-person information about the colleges in which they are interested, and to be able to talk to a representative face to face. College fairs are also really good for students who don't know what they want to do with their future yet. It gives them the chance to browse through options and get some ideas in their head to prepare. 
Before the fair, students must register for the fair and are sent a bar code for each college to scan. It was set up just like a normal school field trip, and students spent two hours from 10:00 to 12:00 browsing the colleges they would like to see. It is recommended to have some type of plan or list of colleges so you know exactly where you want to go. Students scheduled a meeting with their guidance counselors before to see the list of colleges attending and to highlight the ones they liked. 
At the fair there were rows of booths lined up with representatives from each of the 300 colleges there ready to talk to students. Going up to a booth they introduce themselves and will ask for your major. For the students who are still undecided, many colleges at the fair have undecided as a very popular" major choice" because in many colleges students don't have to declare a major right away. For some colleges, though, students do need to declare their future major, which already weeds out quite a few of your options if you are unsure of what subject area you'd like to study. Going to the fair enables students to truly learn a lot about colleges and the application process that they did not know before. 
When talking to the representative, students should make sure to ask the person all of the questions you can. You should ask about scholarships, prices, the dorms, their most popular majors, about internships and studying abroad. Find out all of the things you want to know so you can figure out what is best for you. Pictures of the campus and class sizes could also be really important and with all of the information you get you can find the pros and cons to each college. Make sure to always take any kind of information, papers, or brochures at the stand so you can review or look at them with your family. These are also good to hold onto just so you can have access to all the information of the college at another time since all the colleges at once could be slightly overwhelming.  
Overall it was a really cool experience and it really does help some kids who are unsure about their futures. I would recommend anyone who is confused about college to sign up for a college fair because they really are helpful. This program should definitely continue in the future for the next classes to come.