On site decision day drives acceptances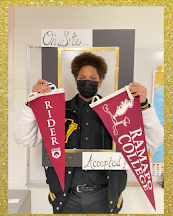 This year marked the 26th Anniversary of West Milford High School's On-Site Decision Day.  This day is set up for colleges to come and visit our school to interview senior students and review college applications on the spot. Students are able to see if they got accepted into the college of their choice then and there, which alleviates a great deal of stress from the waiting process.  Colleges that participated in this year's On-Site Decisions Day include Bergen Community College, Berkeley College, William Paterson University, Bloomfield College, Caldwell University, Centenary University, County College of Morris, Fairleigh Dickinson University, Felician University, Georgian Court University, Iona College, Johnson & Wales University, Kean University, Kutztown University, Lincoln Technical Institute, Montclair State University, Monmouth University, New Jersey Institute of Technology, Passaic County Community College, Ramapo College, Rider University, Rowan University, Sacred Heart University, Saint Elizabeth University, Seton Hall University, Stockton University, Sussex County Community College, University of New Haven, and Western New England University.
On-Site Decision Day is really popular because it reduces the college admission process to only one day and the students immediately get to see if they got into the colleges to which they applied. 104 seniors participated in this year's event, and there were 243 appointments with the colleges. There were a total of 202 acceptances this year. Many people got accepted into multiple colleges to which they applied.  
This event takes place at West Milford High School. The process starts with students sitting down with colleges. They will go over your academics and test scores, ask you questions about what your housing plans are and if you would like to study abroad.
Some students from our school answered some questions about their experience with the process. The first question was  "How did you prepare for on site decision day?" Lucas McDonald answered, "I researched the schools and familiarized myself with why I wanted to go to the schools I did. I reiterated to myself how these schools in particular could benefit me and how I could fit in."
The second question was "How was the experience for you?" Senior Mia Grizzuti said, "Cherese, the Montclair Underclassman Admissions Officer, was very personable and not intimidating at all. We spoke about common interests and she made me feel very welcome. We connected with our shared love of musical theater, and the whole experience was really pleasant in general."
When asked if they got a lot out of the events, McDonald answered, "I definitely did. I learned a lot about schools I hadn't considered before, and I ended up getting accepted into both Rider University and Ramapo."  Grizzuti had an emphatic yes as well, "Even though I didn't get to meet with all the schools I wanted to, on-site was informative and made me feel more secure in my college search."
If you are a junior currently, be ready next year for when On-Site Decision Day comes to WMHS again.  It could be your ticket into college with a streamlined process and no need to travel anywhere.  It is a great thing that our school offers and hopefully students take advantage of that opportunity.