Red light placed on annual festival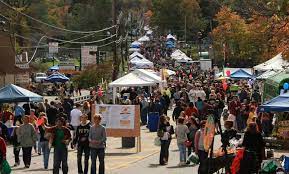 The Autumn Lights Festival, a much-loved annual gathering in West Milford celebrating the start of fall, won't take place on its 26th anniversary this year. The festival was originally created to celebrate our town's first traffic light, and has flourished into a large and much expected annual event for the town. It is a really great way for people in town to go and enjoy themselves while supporting local businesses, enjoying fun fair foods and drinks, buying crafts from local vendors, watching shows and just enjoying the beautiful fall weather.
 The festival, lovingly known as ALF, is set up with multiple vendors along Union Valley Road with many different themed booths for all ages. Vendors sell toys, clothing, jewelry and all different kinds of food. This year the festival was originally scheduled October 9th, but was cancelled due to lack of participation. The reason there is not much participation is because of the ongoing pandemic, which was the main cause of it being cancelled last year as well. If the town didn't cancel, there would have barely been any vendors and there would not have been enough activities. Only 53 vendors had signed up for tables when there are normally over 300. 
Traditionally, the Autumn Lights Festival would have many different activities for children such as rides, face painting, and other crafts. This year they could not get any rides which means that there would not be as many children attending, which is a large part of the town and is a huge draw for those with kids. 
Not having as many activities brings down the attraction to ALF and not as many people would show up. The cost of all of these activities also was a problem because there were not  enough sponsors, and sponsorship covers a large part of the cost. On a normal year about 20,000 people visit the festival throughout the day, so West Milford lost a lot of potential business and revenue this year.
Considering there is also a pandemic a few safety concerns also went into the decision to cancel the festival. A lot of people go every year and many people think that it will put their families at risk to go to such a crowded event. However, since it is also an outdoor event, it is considered safer and less likely to spread any sickness. 
Cancelling the festival is a detriment for the small businesses in town because many would have benefited from having a booth at ALF and being able to advertise and sell their products. 
If those involved in planning the event had gotten the word out a little more and advertised that we needed more vendors and participation in the town, I think more people would have chosen to participate and it possibly could have still gone on this year. Hopefully we will be able to celebrate the festival next year.