Dr. Seuss Books Pulled from Publication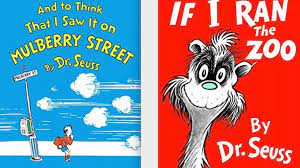 We all know the famous Dr. Seuss and his incredible, magnificent rhymes; his creative thinking comes to life when his pen touches paper, whether it is through his drawings or his writing. He is arguably one of the best authors of childhood literature. 
Theodor Seuss Geisel was born in Springfield Massachusetts, on March 2, 1904 and died in 1991 at 87 years old. His books are printed in dozens of languages all around the world. However, Dr Seuss Enterprises recently noticed that some of Dr Seuss's illustrations were deeper than what is seen on the surface and have taken action to prevent the spread of bigotry or prejudicial notions and are seeking to do better. 
 These drawings, though they were consistent with the time period, are now considered racist and inappropriate, and nowadays, things of that nature are no longer acceptable and are not taken lightly. As of right now, Dr. Seuss Enterprises has selected six of the original books with offensive images to be taken out of print.  Two selected books include "And to Think That I Saw It on Mulberry Street" and "If I Ran the Zoo"- both books will stop being published due to the insensitive illustrations. The illustrations described people in the wrong way and the paintings are very offensive and not factual.
ABC News describes the book "And to Think That I Saw It on Mulberry Street" as having an Asian person being portrayed wearing a conical hat and eating out of a bowl with chopsticks. ABC News also reports the book "If I Ran the Zoo" depicts two bare-footed African men wearing what appear to be grass skirts with their hair tied above their heads. These offensive, racially charged stereotypes are the cause for the Foundation's decision as the representatives realized the books "…are racist and insensitive and creasing sales of these books is only part of our commitment and our broader plan to ensure Dr. Seuss Enterprises' catalog representatives and supports all communities and families" the foundation said in an interview with ABC News. 
 The other books that are affected are "McElligot's Pool", "On Beyond Zebra!", "Scrambled Eggs Super!", and "The Cat's Quizzer." In 2018, in Dr. Suess's hometown, the Dr. Seuss Museum removed a mural that had an Asian stereotype. 
Dr. Seuss is loved by millions of people all over the world. He is ranked in top 2 on the highest paid dead celebrities in 2020 with an estimated $33 million, and generally his work is well-respected and carries many valuable lessons overall, but perhaps some of the notoriety he has received is ill-deserved. 
As the years go on, readers have begun to acknowledge the stereotypes and are digging deeper when reading his books. Some may say he might not have meant it how it has recently come across, while others disagree. Perhaps there are other authors who have not had racist or stereotypical images in their works who also deserve recognition for their writing, and the pedestal Seuss has been on needs to be re-evaluated.   
 Whether you agree or disagree, these books will no longer be available. For more information you can go to Dr. Seuss.