A day spent in Warwick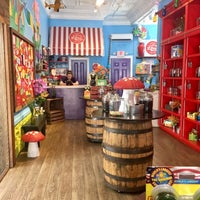 Many people haven't done much during the pandemic, but as we start to ease back into normalcy, Warwick, New York is a lovely place to go to visit. 
Fizzy Lifting Soda Pop Candy Shop is probably the coolest candy store I have ever seen. The bright colors and sweet smells really bring it all together. They have everything from cotton candy, to Japanese soda, and Harry Potter themed candies, and they even have a photo booth! There is also a smaller room located in the shop where younger kids could enjoy a painting birthday party! I have been multiple times and love not only the candy, but the layout of the shop.
Newhards is what many would call a "cluster shop". Everything is close and squished together, but it is the coolest shop to visit because they have things you never knew you needed. It's a fun store and you never know what you are going to find. I usually go for their wide collection of incense and candles. They also have toys for children, soaps, jewelry, mugs, kitchen utensils, and much, much more. It is a cute little shop and I love to see what I can find when I visit because it is different every time I go.
Cactus Pete's jerky shop is a favorite of mine as well. Now if you are a big fan of hot foods and such, this is your store. The store sells different flavors of hot sauce and jerky! The store offers different types of animal meat, some being exotic or weird like snake meat. I am way too scared to eat anything besides turkey and beef jerky, so I haven't tried anything besides those two types of jerky, but of those two types, the flavors I have tried are delicious. If you like jerky or are a lover of spicy food, I definitely suggest visiting the store.
Finally, Corbett's Cookie Shop is a shop run by the parents of WMHS student, Allie Walker.  At Corbett's cookie shop, a wonderful variety of cookie bars are sold. I have been to the store and tried multiple of the different, elaborate flavors and they are all delicious! The flavors range from Blueberry Crush, which features a lemon zest and blueberry filling followed by a shortbread crust, to a personal favorite called The Pretzel Brownie, which is a yummy brownie with chunks of pretzel in it–the perfect combination of salty and sweet!
 If you're in need of a little shopping or some fantastic places to eat, Warwick is the place to go!