How to make delicious Oreo truffles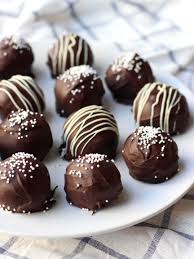 Are you stuck on what to make for Thanksgiving desserts? Are all of the same foods year after year getting tiresome? If that is the case, I have a delicious recipe for you–Oreo Truffles! They are simple to make, but time consuming.
        Start by crushing a package of Oreos in a blender. Then, mix the Oreos up with two packages of cream cheese, refrigerated. After the two ingredients are mixed, roll them into balls. These balls can be any size you would like, it doesn't matter. Put the Oreo balls into the freezer for two hours. When the two hours is up, melt two bags of chocolate chips (I use dark chocolate) and dip each ball into the chocolate. Repeat the process until they are all dipped. You may add sprinkles to them if you please. Freeze for an hour. Enjoy!