"Emily in Paris" provides pleasing Parisian personas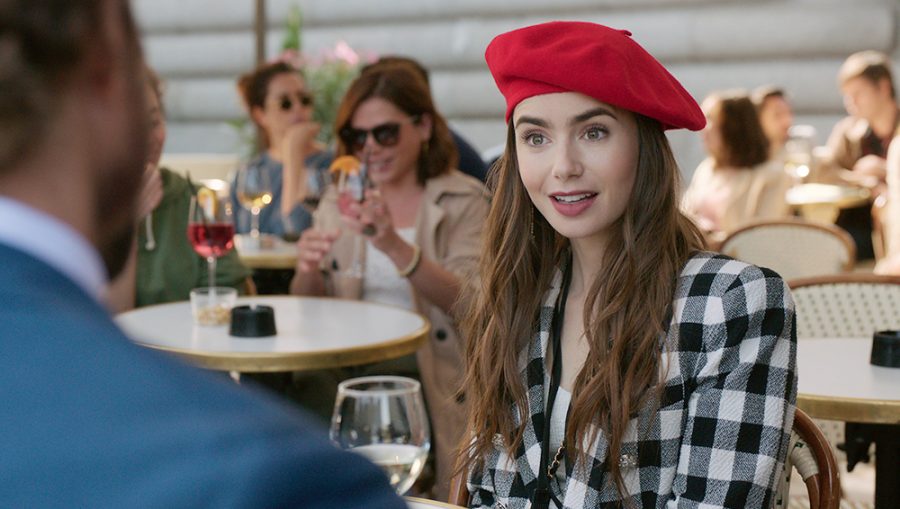 Paris is the City of Love, and there's lots of love to go around for the new Netflix original "Emily in Paris". Love, lust, and fashion–this show makes for a great girls' night binge. The main character, Emily, finds herself as an American marketing expert for a company in Paris, which makes for a unique experience. There are love triangles, drama, and some moments of sheer laughter.
Many viewers get "Sex in the City" and "Gossip Girl" vibes from this new show, including, but not limited to: fashion energy and snobby rich women, and I have to agree.  I recommend asking permission to watch this show, as it received an MA rating.
The pilot episode shows the culture difference of moving to a new country, and language barriers that may occur. As the show progresses, Emily becomes more accustomed to France, and to the people in the country. There are some important topics that are tackled, such as bosses mistreating employees, feminism, and issues supporting the LGBTQ+ community.
The first season, which was recently released, contains 10 episodes ranging from 20-30 minutes; a night's worth of watching. Although nothing has been announced for a season two, the producers are already planning the story-line. 
The show did face some backlash due to the fact the show focuses on French stereotypes, however lead actress Lily Collins responded that "as disheartening as it sometimes is to read these things, it's also a gift; you're being allowed to improve."  Collins's true fans came to her defense, claiming she was not the writer, and the show was great, regardless of the flaws many saw with it. Personally, I found nothing wrong with the show, and thoroughly enjoyed it.