Top 5 Movies of 2020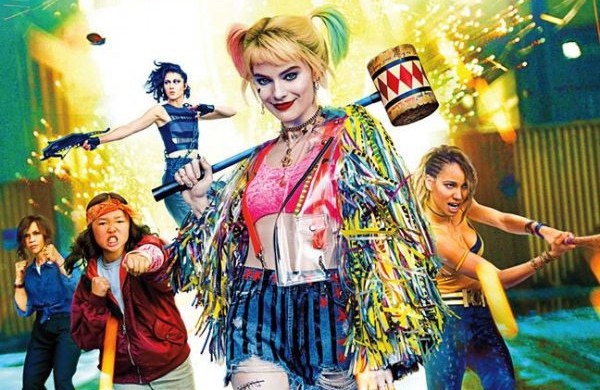 JD Jones, Arts & Entertainment
October 2, 2020
If years could be paired with movie genres, 2020 would definitely be a disaster blockbuster! Full of dangerous pandemics, dreadful fires, and numerous tropical storms, it's safe to say 2020 has not gone the way we all thought and the movie industry was not spared by this year's wrath. Due to COVID-19, big tentpole blockbusters have continued to be postponed, so smaller movies on streaming services like Netflix and Disney+ have been the go-to for movie enthusiasts. Despite limited offerings this year, I've decided to make a quick list of films released this year that are worth the watch, so here they are:
Birds of Prey (and the Fantabulous Emancipation of One Harley Quinn)
One of the few superhero movies to be released this year, "Birds of Prey" was an enormously enjoyable viewing experience! The film is about Harley Quinn (Margot Robbie) breaking up with the Joker and trying to be her own person. Along the way, she makes a lot of enemies, including Black Mask, played by Ewan McGregor. As those events unfold, she allies herself with a few other people (among them, Rosie Perez as Renee Montoya, and Mary Elizabeth Winstead as Huntress) and they take on Black Mask together. The cast nails the humor when it needs to, and the characters play off one another really well. Margot Robbie is excellent as Harley Quinn, in my opinion, and Ewan McGregor is pretty over the top (in a good way) as Black Mask.
 I also really liked the action due to how well it was shot and how creative it could get. The invasion of the police station and the climatic funhouse sequence are both full of personality and use their environments effectively to create something so refreshing when compared to other recent action movies, which are increasingly feeling all the same with how they play out. 
One criticism I have would be that I wish it were structured a bit better, as the narrative goes back and forth between a straightforward chronological story to a non-linear narrative, which can be a bit jarring. In addition, I'll also say that for a movie based on a popular female superhero team, the titular Birds of Prey are kind of more in the background when compared to Harley, but one's personal taste may be able to overlook it. Nevertheless, "Birds of Prey" was an absolute blast. The cast is entertaining, the set pieces are stunning, the colors and cinematography are incredibly vibrant, and the humor really appealed to me, making it one of my recent DC favorites.
Onward
If you were like me growing up, you've definitely at least seen four to five Pixar films. The animation studio has defined many people's childhoods, mine included. One of their most recent films is called "Onward", about a world where magical creatures have lives very akin to our own, using modern technology instead of sorcery. In this world, a teenage elf named Ian (Tom Holland) receives a present from his late father: a staff that can bring him back for 24 hours. After they are halfway done resurrecting their dad, and realize they need a new part of the staff, Ian and his brother Barley (Chris Pratt) go on a quest to complete the spell. If I'm being honest, I wasn't expecting "Onward" to be as good as it was, maybe because I'm older and not exactly the target audience. However, when it debuted on Disney+ earlier this year, my sister helped convince me to watch it, and I was genuinely surprised! This might not have been the best Pixar film I've seen (perhaps due to the nostalgia I have for the studio's previous works), but it's a great family movie any age can find enjoyment in. Holland and Pratt have great chemistry as the leads, really selling that sibling dynamic. The animation, as to be expected, is quite stunning, creating yet another interesting reality to explore. It's a very interesting notion to see unicorns using kiddie pools and elves using smartphones, but Pixar handles such concepts with relative ease, this being no exception. Furthermore, "Onward's" sense of humor is pretty good, offering material that reaches a broad audience, and it's also full of heartwarming scenes. The themes about family are quite touching, and if you're an emotional person, you might even shed a tear. Again, my only problems with "Onward" aren't really with the film itself, it's just that I think many other Pixar films were more creative and hit higher levels of success.  All that being said, "Onward" still deserves to be seen, and if you have Disney+ and are looking for something the whole family can enjoy, give it a chance!
Bill and Ted Face the Music
The 1980's are a personal favorite decade of mine due to the films that came out during that time. Whether it was action, comedy, or horror, the decade was pretty consistent in churning out many entertaining movies. One of the decade's most entertaining comedies came out in 1989, called "Bill & Ted's Excellent Adventure". It centers on two amateur rockstar slackers (played by Alex Winter and Keanu Reeves respectively) who time travel through history so they can get an A+ on their history project, which will put them on the right track as they create the song that unites the world in the far future. It's a simple, charming movie with good laughs, two great performances from Winters and Reeves, and tons of quotable lines. Their quest for world unity would continue in 1993's "Bill & Ted's Bogus Journey", where they are killed by robot doubles from the future, and have to come back from hell to save the world. It received more mixed reviews initially than the first (I'm not crazy about it myself), but it has received a cult following recently. Now, the planned third film was finally released with the title of "Face the Music". It centers on Bill and Ted, who are now in their 40's, and they still don't have the world-uniting song. With warning of impending doom from the future, they decide to time-travel to when they have the song, and steal it so they can play it to finally save the world. Along for the ride are their daughters, Thea (Samara Weaving) and Billie (Brigette Lundy-Paine), who go through time to assemble a band of great musicians to back them. As a trilogy conclusion, "Face the Music" is really great, and it's definitely one of the best feel-good movies of this year! Alex Winter and Keanu Reeves still can tap into that Bill & Ted energy even all these years later from the first film, and the actresses that play their daughters also bring great charisma to their roles. The modern technological effects help develop this alternate reality more than before, the music is a great accompaniment, and the comedy works just as well as it did previously. I was nervous that a modern Bill & Ted movie wouldn't really understand what made the previous films work, but it continues to preserve that charming, goofy spirit. I also appreciated the length of the film, as it didn't try to be too complicated. It was a perfect, breezy film that gives you exactly what you need, and nothing more. Overall, "Face the Music" is worth it to rent digitally if you can, because in an uncertain time right now, its wholesome and fun nature can provide significant joy!
Hamilton
While filmed back in 2016, Disney+'s release of the musical "Hamilton" comes at a time with few other releases, so it's included here just for the hell of it. Now, when the initial musical came out and became the phenomenon that it was, I kind of brushed it off to the side. Musicals aren't really my thing, so I didn't really have an interest in listening to it at all. But, needing something to watch, I decided to see what all the hype was about. And to be frank, I'm slightly mad at myself for underestimating "Hamilton" like I did. While I do appreciate it more than I truly like it, this has got to be commended for its unique presentation of historical events. To me, Alexander Hamilton was always an interesting Founding Father, and Lin-Manuel Miranda clearly has that same level of passion and interest, which translates into the writing. The writing of the raps to fit in with Hamilton's own life is done cleverly, with a precision only some could dream of achieving. As for production, this was done on Broadway, and so of course it looks pretty good. The costumes feel authentic, and the way the stage is setup is quite effective. The rotating portion for the duels adds something new and fresh while also keeping those scenes tense. As for the music, the soundtrack is spot on! It's full of catchy, diverse songs that evoke different emotions at the exact spots they need to, and it helps that every talented singer involved has his or her moment to shine. Finally, the way the whole musical was filmed worked really well, and made everything feel really cinematic. The different angles and intimate close-ups help elevate the experience, creating a new dynamic that works rather well.  To sum up, "Hamilton" far surpassed my expectations of a musical, and while it is kind of long, it's an experience that one shouldn't miss.
The Vast of Night
Available on Amazon Prime, "The Vast of Night" flew under the radar, but I definitely urge you to check it out if you can. Playing out like an old 1950's "Twilight Zone" episode, the film centers on Everett and Fay (played by Jake Horowitz and Sierra McCormick respectively), two teenagers who live in a small town. When their radio airwave frequencies start to become disturbed by some unknown entity, they try to find out who it is before it's too late. What makes this movie all the more impressive for me is that this is a directorial debut for filmmaker Andrew Patterson, and if he can deliver films like this more often, he's going to have a truly successful career ahead of him. Horowitz and McCormick are really good as the two leads, playing off each other well, and demonstrating a friendship I think people now can relate to, even though it's set in the 1950's. I also really liked the aesthetic and cinematography which create a nice, vintage sci-fi feel. The camera moves fluidly, creating some excellent shots that capture the moods of certain scenes really nicely. I'd also like to bring up that "The Vast of Night" manages to be a great example of a film that consists mainly of dialogue scenes and remains compelling. For example, there is a scene of a radio interview that goes on for a while, deepening the central mystery. It goes on for maybe 10 minutes, but the whole scene remains mesmerizing. It's definitely a slow burn, but if you're patient, "The Vast of Night" is definitely worth the wait!