Kick starting the soccer season
It is never easy for any sports players when there is a complete coaching staff change, but both the Varsity and JV soccer team members are choosing to look for the positives. The captains this year are Alex Buonanno, Julia Bono,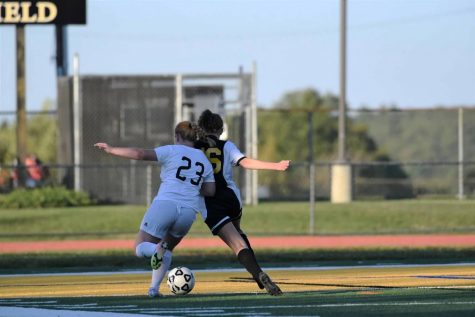 Natalie Hamblin, and Emma Piskadlo. After head coach Zuban retired, Coach Wagenti took over Varsity, and Coach Gwinnett took over JV. As the new Varsity coach, Wagenti (aka Wags) plans to bring unity to the both teams, having them play as one family rather than two separate entities. She is an advocate for togetherness and wants to see team members playing as a unit on the field, and acting like a family off the field. Her major goal of this season is to remain competitive, and to have "team camaraderie", something for which all teams should strive. The hardest part this year was having to fill nine spots on the field for Varsity to replace all of the graduating seniors from last year.  
Her positivity seems infectious, and Wags is excited to be able to play at all after the many shutdowns due to Covid-19. The entire team is grateful for the season that they get to play, even if it is shortened. The best part of being a coach, according to Wags, is being able to connect with her athletes, and watch them succeed at the skills she has taught them. A large part of being a coach is teaching the athletes lessons, and Wags is great at teaching the girls accountability. As she says, "If they mess up on the field, it is fine, but own it and then move on and try and do better next time," a lesson that can apply to anything whether it be soccer, work, school, etc. 
Taking Wagenti's spot as the new JV coach is Coach Gwinnett (aka G), whose goal as a coach is for the girls to enjoy the sport they are playing. She plans to teach the girls as much about soccer as possible, as long as the season is fun in the process. She sees daily improvement from her girls, and acknowledges the time limit placed on the season due to Covid-19. She loves being part of a group, and is ecstatic to be coaching soccer again. G says the girls are always ready to play and when players are motivated G says they are easier to coach.  JV player Angelina Roccisano says G is a fair coach and is always encouraging her to work hard. The team may be new, but G makes it easy for the girls to connect and learn together. 
Captain Julia Bono is excited about her senior season. She acknowledges the team's ups and downs, but is able to get through it and motivate her girls. As they are halfway through the season, they are working even harder to finish strong. Julia loves to make the sport fun, and she hopes to teach the girls under her everything she can about soccer with the time she has left. Captain Alex Buonanno, goalie for Varsity, is on her comeback year after undergoing knee surgery last year. Buonanno says it is a transition year for both teams, and although it has its challenges, it will make everyone a stronger individual and leaves room for growth on and off the field. 
Overall, girls soccer is on track to becoming a strong team. Their ups and downs are only making them stronger and in the coming years they will be a powerful team. A complete change in players and coaching staff may seem like a challenge, but Wagenti, Gwinnett, and their girls are doing a fantastic job at playing with their hearts and making the games enjoyable to watch.