Remembering Justice Ginsburg
Many little girls and young women dream of breaking gender stereotypes and making it in a male's world. One woman who was successful in breaking those barriers and opening the door to many women behind her was role model Ruth Bader Ginsburg. The Notorious RBG became an inspiration and a pop culture icon. Appointed to the Supreme Court in 1993 by President Clinton, Justice Ginsburg was a pioneer for women's rights, beginning with her time as a private lawyer, continuing through her appointment as a Supreme Court justice and her illustrious career on the bench.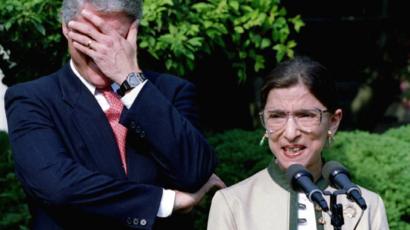 She spoke openly about the gender inequality she faced throughout her life. Whilst attending Harvard Law School, she and the eight other women of her graduating class were asked how they felt about taking a man's spot within their Harvard cohort. She endured comments and blatant sexism her whole career. She soon learned how to deal with those types of comments, sharing with women everywhere her tactic of, "viewing [men] as kindergarteners who need to be taught." She graduated in 1959 after earning her law degree from Columbia and began the search for a legal position or court appointment, however, she was denied many opportunities because they were considered 'men only positions'. She then worked for the District Court of Southern New York, and while working there, she immersed herself in Swedish studies, learning more about gender equality. 
Ginsberg founded the Women's Rights Law Reporter and wrote the first textbook on sex discrimination. Her constant efforts to break glass ceilings proved that women can hold places not only in law careers and should be seen as equals, but also that women are equal to men legally. She founded the ACLU's Women's Rights Project, which helped her in the fight against gender discrimination. One of her most notable achievements was determining that the 14th Amendment's Equal Protection Clause applied to gender; this is now a common understanding accredited to Justice Ginsburg. Specifically, in the case, Reed v. Reed, Justice Ginsburg was the first person to argue that the Equal Protection Clause applied to Cecil Reed gaining the right of inheriting an estate. She continued to argue cases on discrimination based on sex, even cases in defending men against discrimination.  As she served as a Justice in the highest court, she continued to defend liberal values even as the beliefs and majority of the court swayed away from her end of the political spectrum. 
Justice Ginsburg's work in the court to establish women's rights led many women to feel inspired to demand gender equality for themselves. She was able to accomplish so much in a male-dominated society. Women everywhere felt empowered by her ability to command a room, no matter her size. Even though she was a diminutive woman and was soft-spoken, RBG had a great deal of power. She commanded respect using her calm demeanor to outsmart those around her. Her loss is devastating to many and was felt nationwide as people flooded outside the D.C. courtroom to share their condolences and honor her memory the moment the news spread. When this news was announced, President Donald Trump said, "She was an amazing woman, whether you disagree with her or not, she was an amazing woman who led an amazing life." This pure reaction showed the weight she held in Washington, even someone who was a constant critic of Justice Ginsburg like the president understood and respected her esteem. 
Senate Majority leader Mitch McConnell did not react with such immediate sympathy and sadness as Trump. He spoke about his plan to replace Ginsburg, against her dying wish of not being replaced until after a new president is inaugurated. McConnell promised that Trump's nomination would pass through the Senate and would be appointed. Democrats pushed back against McConnell claiming they should wait until the election season is over. Chuck Schumer says, "Nothing is off the table." This threat would possibly mean filibustering, or the addition of justices to the Supreme Court, seeing there is no legal limit in the number of justices. 
Many Republicans previously denounced the nomination of the open seat in the election year of 2016 after Justice Anthony Scalia passed.  Lindsay Graham did not support a nomination within the last year of a term during Obama's presidency, and claimed to stick with this value, but is pushing for a new nomination within Trump's last term. Many are curious about how this will affect the election given that Trump's nominee will fundamentally change the course of the next generation of American politics. Many of Trump's possible candidates have spoken against the iconic Roe v Wade case that legalized abortion, a case which  Justice Ginsburg defended in Stenberg v Carhart. Trump has nominated Judge Amy Coney Barrett, a known anti-abortion judge.  
Justice Ginsburg became an icon within politics and her story became a public one when a narrative movie entitled "On the Basis of Sex" was released showing the story of her life and her climb to success. This movie helped show many people how she was able to balance family life and law career, despite the challenges she faced. She was a pioneer for all women who followed in her footsteps and her memory and work will never be forgotten, regardless of which side of the political spectrum on which you fall.