Samantha Hazen achieves Valedictorian title for Class of 2020!
A future Bulldog, the Valedictorian of the Class of 2020, Samantha Hazen will be attending Bryant University to study Applied Mathematics/Statistics at the Honors College. It is no surprise Hazen will be continuing into an honors college given her 4.78 GPA at the end of her high school career. She enjoyed her time at West Milford High School, especially classes with her close friends that made some of the workload and stress a little more manageable and enjoyable. Hazen always pushed herself to succeed in every class, but class rank was never a motivation to her, "I always wanted to do as well as possible in school, but it was never so I could be #1 in my class," Hazen said. Instead, her inspiration came from her mom who taught her, "performing well in school would allow [her] to have more opportunities later in life," advice which has led her to a lot of success. 
Hazen also attributes elements of her success to some of her favorite teachers at the high school. She loved math classes, especially with Mrs. Nitkinas, as well as physics class with Mr. Rose. These classes developed her passion and love for math-related subjects, once she embraced this she took more accelerated classes in those subjects and limited classes of English and History. Hazen found this to be a crucial part of balancing her schedule and not feeling burnt out.  
Her biggest piece of advice for current Highlanders is just that–don't overwork yourselves. She understands the pressure that high school puts on students making them feel like not taking accelerated courses is somehow lesser than, to Hazen, this is not true. She believes applying yourself in any class is important, no matter the level.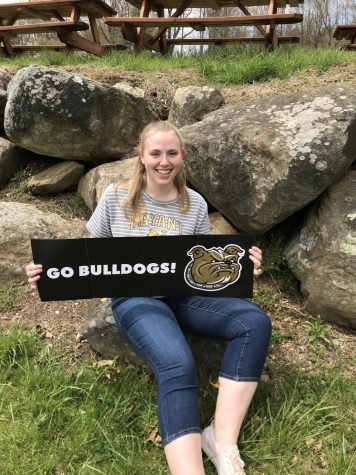 An invaluable part of Hazen's high school experience was being a part of the Yearbook Club with Mrs.Metcalf. According to Hazen, "Metcalf always made everyone feel so welcome and valued every student's help," this type of environment kept Hazen in the club despite her rigorous academic life.
 Hazen is more than just a super smart and determined student. She loves to hang out with her friends and one of her favorite parts of her school day is playing pickleball in PE. If she could have lunch with anyone in the world she would pick Michelle Obama. A very powerful woman like Michelle Obama being one of Hazen's inspirations is no surprise considering the intellectual level she obtains and the success she will most certainly achieve. Her determination at school is largely due to her motivation from her mother, teachers, and friends. Hazen has accredited much of her success to these people in her life. From the Highland Echo Staff, congratulations, Sam, and good luck with all future endeavors!