Michael Jordan proves he's the G.O.A.T in "The Last Dance"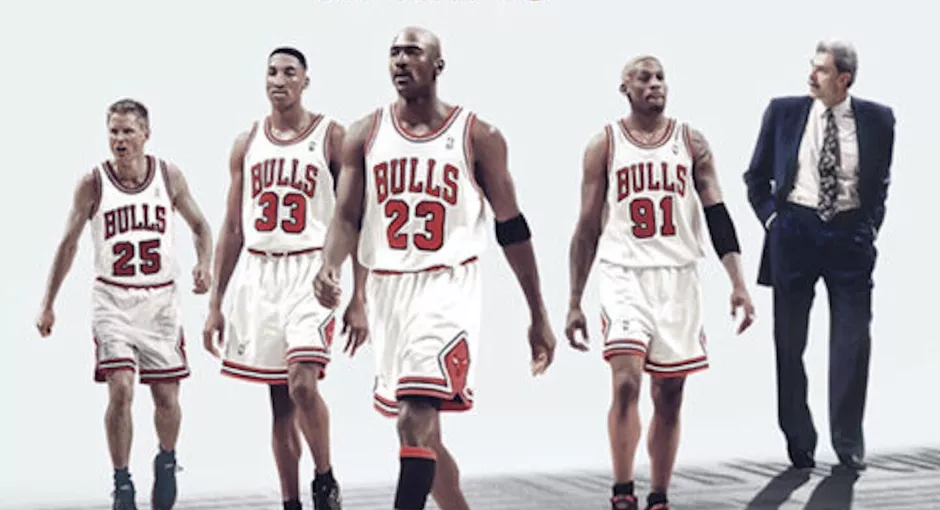 Patrick Babbitt, Sports Editor
May 20, 2020
For the past month, every Sunday night at 9:00-11:00 PM, ESPN shows two episodes of a full, ten-part documentary called "The Last Dance". The documentary was about The Chicago Bulls, and the dynasty which reigned in the 1990s. The documentary ran from April 19th through May 17th. The Bulls had lots of drama, and lots of events distracting the team from its goals,  yet The Bulls were still able to achieve six championships during the time. The show was mostly highlighted by the 1998 season, as it went through the journey the Bulls went through to get there, while still going through the journey how they were able to achieve five other championships. 
Most of the documentary interviews "the greatest player of all time" Michael Jordan, as he was the superstar for the Bulls, and was the leader of the team. About 75% of the interviews featured Jordan, as some could argue that the show was mostly about Michael Jordan's journey.  The star athlete went from North Carolina, was drafted by the Bulls, led them to three championships, then he took off two years and played baseball, and then he came back to the Bulls, and led them to three more championships.
Aside from Jordan, other key members interviewed in the documentary were Scottie Pippen, arguably one of the top 20 basketball players of all time, and a great number two for Jordan, as he was with the Bulls for all six championships from 1991-1993, and 1996-1998. They also interviewed Phil Jackson numerous times, who was the coach of the Bulls during these six championships, and was very close to these teammates. He taught them many lessons throughout coaching, that there was more than just playing the game, there are mental lessons as well. There was also Dennis Rodman, a great defensive player and great rebounder who played amazing defense for the Bulls. Rodman was a strange character, who, during the middle of the season left for Las Vegas, and, before game four of the NBA finals, wrestled with Hulk Hogan for WWE. 
Although these four highlighted the documentary, many more Bulls players were interviewed, such as Horace Grant, Bill Cartwright, Toni Kukoc, Steve Kerr, among others. There were interviews with competitors Jordan faced, such as Isiah Thomas, Larry Bird, Magic Johnson, Reggie Miller, Charles Barkley, Gary Payton, John Stockton, and many more fantastic players and coaches. Most of these players described MJ as being the goat, and described how he "wasn't even human". 
Overall, there were many funny, controversial, and heartwarming events which highlighted this with basketball, and non basketball. For example, Gary Payton believed that he shut down Michael Jordan on defense in the 1996 Finals, yet when they showed MJ a clip of him saying that, he laughed hysterically. Another comical theme was how if you tried to trash talk MJ, then he would simply destroy you on the basketball court. MJ's mentality was insane, and everytime someone would get MVP other than him, he would be so angered. Dennis Rodman was another excellent element to the show; every time he would talk, and everything he did, was so funny, and his stories were hilarious, like how his coaches and teammates let him go to Las Vegas for a week, and he came back stronger and better than ever in 1998.
MJ became the subject of controversy in life and this documentary gave him the chance to set the record straight. For example, after he retired in 1993 after he won his third finals, there was lots of speculation that Jordan retired and played baseball so he wouldn't have to face a punishment with his gambling problem. In the documentary, Jordan and Stern came clean saying there was nothing to do with him retiring and his gambling problem, and how there was nothing in common between the two. There were also stirred up emotions regarding how Jordan didn't advise the election of democrat Harvey Gantt. Since Jordan was from North Carolina, and was the same race, people believed Jordan should have endorsed Gantt, so Gantt could win, yet Jordan didn't.  The documentary explains how Jordan didn't want to get into politics, and how there was too much going on in the superstar's life at the time. Another key moment was Jordan was known for not being a good baseball player, yet the documentary states how difficult it is to go from basketball to baseball.  If Jordan had more time and experience, he could've gotten to the majors, and played professionally.
There were also lots of emotional moments, such as MJ winning his first championship, and how happy he was based on how much work he put in. The death of his father was also a pivotal moment for Jordan, as James was his best friend and was always by his side throughout every moment. After his father's death in 1993, Jordan played baseball for him, and when he returned to basketball in 1996, after he won the championship on father's day, he cried on the floor. The most surprising heartwarming moment was when Jordan described how hard he was on his players, and he just wanted to do that so he could win. During that description, he started crying hysterically, as he told the camera crew to cut. Overall, the documentary shows MJ had feelings toward people, and how he cared for people, yet it was never viewed that way, as all he cared about was winning.
The big highlight of the documentary was how much blame general manager Jerry Krause got for splitting up the team. At the beginning of the 1998 season, Krause said that if Phil Jackson went 82-0, there was a zero percent chance he would come back. Jordan and Pippen disliked this, saying they would only play if Jackson coached. Krause said that it was their decision, as he wanted to rebuild the team, to prove that managing a team wins championships, and that it's not all about the players. Overall, this did not work, as the documentary ended with Pippen, Jordan, Jackson, and Rodman all leaving after the 1998 season. It also said how the Bulls haven't been that great since 1998. MJ believes that if he has the opportunity to play with the same team and coach for the 1999 season, there's a chance they could've won a seventh championship.
Overall, the documentary is very good, as it's one of ESPN's best 30 for 30s. Although it is called "The Last Dance", I feel it's more of a Michael Jordan documentary, not really as much a documentary of the Bulls as a team.  Filmmakers definitely could have interviewed Jordan's teammates some more. Yet still, the documentary is very well-done, and the purpose is to prove that the Bulls is one of the greatest sports dynasties ever, while also proving Michael Jordan is the greatest player of all time.