COVID-19 ruins sports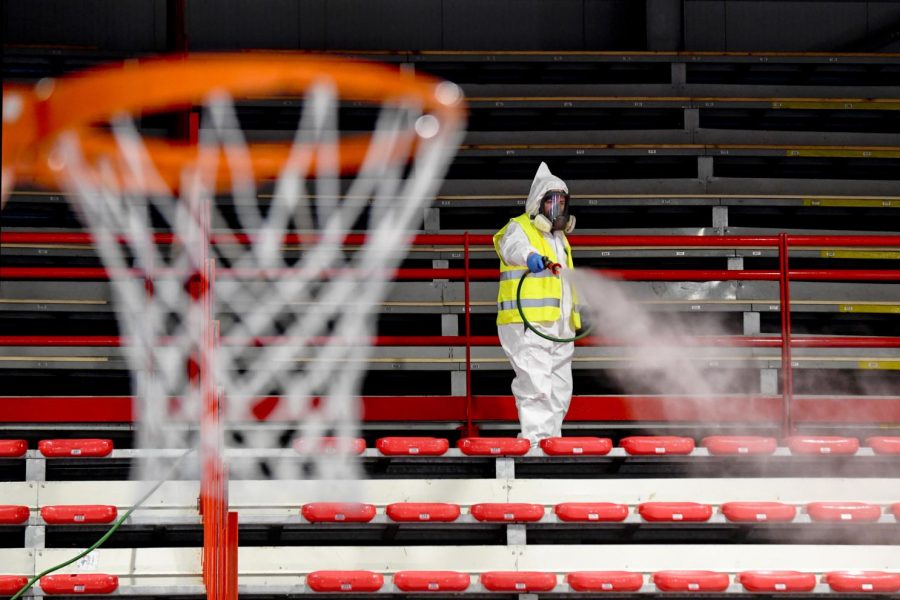 Patrick Babbitt, Sports Editor
May 15, 2020
When the pandemic of the coronavirus first hit the world, I thought a few people would be sick, and doctors would find a cure, and life would go on. Now, in May, the whole world knows what coronavirus is, as it has impacted every facet of society. One of the most notable things coronavirus has affected is what keeps millions of people entertained, and that's sports. Sports are something by which people live, as they make people happy, keep them entertained, and when there's no sports, many people have become sad and seriously lost. The question is, how exactly did coronavirus make the sports world go crazy, and cause the suspension and cancellation of most events? 
It began on March 10, when the Ivy League Conference, which consists of ivy league schools such as Yale, Harvard, Penn, Princeton, etc, called cancellation of their basketball conference tournament, and crowned Yale as the men's champion, and Princeton as its women's champion. The reason they did this was the fear of the coronavirus outbreak amongst large crowds gathering at sporting events, which would enable the virus to spread rapidly. 
The next day, March 11th, the NCAA announced that the men's and women's Division I college basketball tournaments were to be played without fans. The NCAA stated that only essential staff and family were to be allowed to go to games. The tournament would have been held from March 17th to April 6th. Normally there would be tons of travel, and lots of people coming into contact with each other, and there's lots of touching with concession stands, tickets, security, etc. If one person were to get it, then lots of people would get it, therefore, overall it made sense to why they would have it with limited fans. Each conference tournament, which happens before the NCAA tournament, was also to be held with limited fans as well, as announced by each Division I conference.
Later that night,  the Jazz and Thunder NBA game was about to tip off. All of a sudden, the Thunder team doctor came sprinting onto the court to talk to the referees. After talking to them, the refs came up with the decision to postpone the game, fans then left the building, and players were brought to their locker rooms. No one had any idea why it was postponed until it was revealed after the game that Jazz center, Rudy Gobert, had tested positive for coronavirus. Although it is not confirmed, based on the evidence,  Gobert traveled to France, which is likely how he contracted the virus. Gobert is a French citizen, who lived in France before coming to the NBA. At the time, France had the 5th most cases in the world based on countries. Since it takes two weeks to know if one has coronavirus there were likely other  players who tested positive after facing Gobert. 
After this incident, NBA commissioner Adam Silver announced the NBA would be suspended until the major threat of coronavirus had gone away. Silver stated in an interview that the National Basketball Association would be suspended for at least a month, but would most likely be more. With a month left of the regular season, this meant the NBA playoffs, which were supposed to start up April 11th, were pushed back. After the announcement of suspension, it was revealed that shooting guard Donavan Mitchell on the Jazz also tested positive for coronavirus. 
On March 17th, four Nets players tested positive for coronavirus. One of them included star player Kevin Durant, who is missing the entire season with an achilles injury. Yet the other three players remain unknown as of now. Happily, Durant, Gobert, and Mitchell all recovered successfully from the virus, as they do not show symptoms of the virus anymore. 
On March 12th, following what the NBA did, the National Hockey League also announced they would be suspending their season as well. The league is postponing their season, which will most likely now take place until July. The problem with both the NBA and NHL is if the corona outbreak goes on for too long, which could affect the next season, then they might need to cancel the current season, causing there to be no champion for either league, something stunning, which in today's modern history hasn't happened. 
Major League Baseball announced that opening day, which was supposed to begin March 26, would be postponed, and it is uncertain when the season will begin. There are rumors that MLB could start in May. The league could have all 30 teams play in Arizona, due to the warm weather, and have players and coaches always stay 6 feet apart from each other. Although this may be strange, it's something which could make sports fans happy. 
The Masters tournament, golf's most prestigious event which occurs in Agosta, Georgia, has been postponed. It was supposed to occur from April 9th-12th and was postponed to November 12th-15th, a time by which coronavirus hopefully goes away.
The most shocking events came from NCAA basketball. The first announcement came when all the major conferences, such as The Big 12, Big Ten, ACC, Big East, Pac-12, etc, all announced they would cancel both men's and women's conference tournaments. The move came, March 12th at 11:30 A.M, before the games kicked off. Interestingly, one game in The Big East kept playing until 1:00 P.M, which is very strange. Three hours after that, as expected, the NCAA announced that the NCAA men's and women's college basketball tournament would be cancelled. Not suspended–cancelled. Unless the NCAA switches any rule, this means that seniors that spent four years working their hearts out to have the chance to win a championship will never have that opportunity again. For eligibility, winter athletes will not be eligible to compete, while spring sports athletes get one year of eligibility if they want it.
The NCAA also announced the cancellation of all spring sports of college athletics, yet they gave the opportunity to seniors which allowed them to play for one more year in their college sport if they choose.  Although this all seems unfair for fans and athletes, it's for everyone's safety, which is necessary, as many people travel all over the world, which could potentially cause this virus to spread. 
This hasn't really affected the National Football League, as the season doesn't start until September, but only time will tell. The league stated that the NFL Draft from April 23th-25th will now be held online. Staff which has been travelling to recruit players, and interview them, will have to go back to their homes to quarantine, which is a huge disadvantage. Free agency still happened, which was smooth, as players got to sign with new teams. Although no one is in season, Saints head coach Sean Payton became the first to associate with the NFL to get coronavirus, which was announced on March 19th.
Other leagues which have suspended their season include Major League Soccer, The XFL, most international soccer leagues, and many other leagues.  The biggest question is the summer Olympics, which has been rescheduled to 2021.  Will the games take place at all?
Although fans are very angry about all these leagues being suspended and/or cancelled, there are people dying, and people's lives come before anything. It is upsetting for many fans and athletes, but this is something very dangerous, and is affecting millions of people. It is spreading rapidly, and by taking these precautions, it means fewer people will have the virus, which is ultimately the goal.