America in mourning over Kobe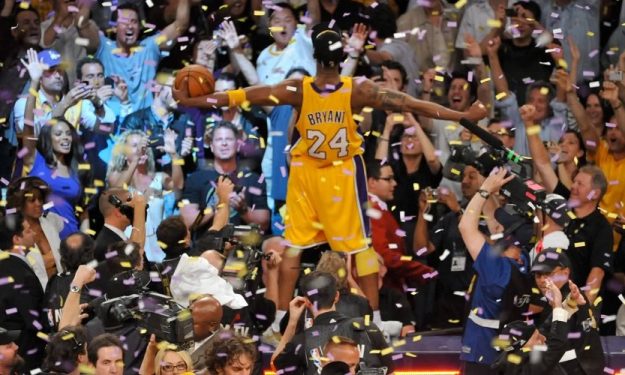 Patrick Babbitt, Sports Editor
March 13, 2020
Everyone viewed him as an icon; his work ethic was unreal, he only needed five hours of sleep, and would take over 400 shots during a practice to master his shot. He helped the Lakers earn five championships, appeared in 18 all star games, 3 MVPS, made 11 All-NBA First Teams, and was a two-time Olympic gold medalist for basketball. He even scored 81 points in a game, which is the second most of all time. In his final game, he scored 60 points,  the greatest performance an athlete could make in his final game. He is arguably one of the greatest Lakers of all time to touch a basketball. In 2018, he was able to achieve an Academy Award for Best Animated Short Film, thus becoming the the first African-American to win this award. Sadly, Kobe Bryant passed away on January 26th in a helicopter crash, alongside his daughter GiGi. Aside from playing basketball, and making films, family was the most important value in his life. He lived happily with his beloved wife, Vanessa, and his four daughters, GiGi, Bianka, Natalia, and Capri. 
On January 26, 2020, Kobe, GiGi, and six other family friends were on their way to a travel basketball game in his helicopter. There was a light fog and rain in the morning, yet the pilot was granted permission to fly. At 12:30 P.M. ET, the pilot contacted Burbank Airport's control, notifying them he was flying too low to be tracked by radar. At 12:40 P.M., the helicopter would begin to climb rapidly, thus increasing altitude. At 12:45 P.M., the helicopter would then hit the side of a mountain in Calabasas, which is about 30 miles northwest of Los Angeles. The helicopter would then catch on fire, as Los Angeles County Firefighters and paramedics responded to the scene, searching for survivors. Unfortunately, all nine people on the helicopter were found dead, and the cause of the crash is still unknown.
The following people perished in the accident; Assistant Coach Christina Mauser, who was an outstanding basketball player and coach according to her husband. College baseball coach John Altobelli, who was the head baseball coach at Orange Coast College. He also coached baseball players such as Aaron Judge of the Yankees, and Jeff McNeil of the Mets. His wife Kerri Altobelli, who was married to John, and their daughter Alyssa Altobelli, who played alongside GiGi on the court. There was also mother Sarah Chester, who was described as the glue of their family, and also would do everything for them. Her daughter was Payton Chester, who was also on GiGi's team, which tragically died in the crash as well. Someone described her personality to light up a room. The pilot was Ara Zobayan, who said he loved flying, and really enjoyed being a pilot. 
Kobe Bryant will never be forgotten, as he is a basketball legend. This whole season players will be playing for him, honoring how hard he worked each and every game and how focused he was.. Rest in peace, Kobe, as you worked your whole life, and you will never be forgotten.