Wrestling builds upon success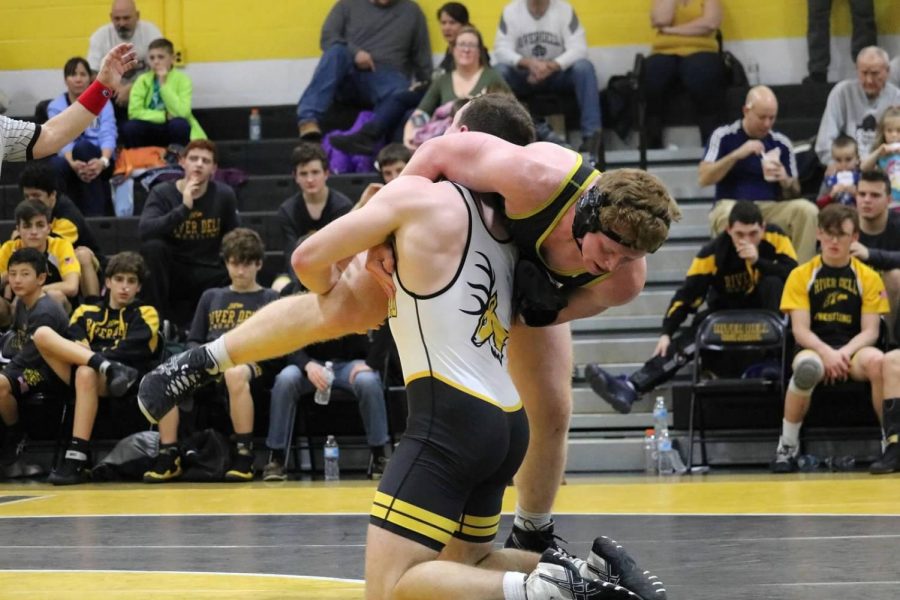 Joseph Heisler, Sports Adviser
December 18, 2019
Following last year as one of the best seasons in the decade, West Milford Wrestling looks to build upon that success in 2019-2020. With over half of the lineup returning and plenty of key wrestlers back, West Milford looks poised to compete for a Conference and County title.
Returning for his fifth season as head coach is Taylor Pevny. Pevny was a four-year wrestler in high school and also serves as assistant football coach and assistant baseball coach. Every season, the team continues to show steady improvement under Pevny, going from a losing record in his first year to hosting a home State Sectional match a season ago.
Assisting Pevny are the same faces as last year with Craig Spencer, Gary Stoll, and Micheal Blakley. This staff is one of the best in the state, with Spencer who previously served as head coach of Lakeland Regional High School and Kean University, Stoll who served as the head coach in the 2014-2015 season, and Blakley who served as WMHS head coach for over 30 years, and led the team to over 30 titles.
The captains of this year's team are senior, Jordan Araujo, and junior, Norman Rubinsky. Both wrestlers are three-year varsity starters who show plenty of promise.
Despite graduating eleven seniors, including West Milford's great Trevor Fleet, who was a four-time county placer and won 120 matches over his career, West Milford still brings back a host of key returners. Leading the charge is four-year varsity starter, Joe Heisler. Despite having an injury plagued career, Heisler is still a two-time Regional qualifier, taking sixth place as a junior. Joining Heisler is fellow senior, Joshua Curving, a transfer from Passaic County Tech, who took fourth in the county and qualified for Regionals a season ago.
West Milford also boasts two returning County Finalists in Reilly Fleet and Aidan Bolger. R. Fleet is a two-time county finalist and also qualified for regionals as a freshman. Bolger, a sophomore, dropped a close 9-8 match in the finals a season ago. Another county placer is junior, Kyle Fernly, who took third a season ago.
To go along with these notable seven wrestlers, there are plenty of other wrestlers from last year's team looking to make the next step to placing in tournaments like Counties and Regionals. In the lower weights, junior, Aidan Highers, and sophomore, Zack Proctor, return, along with Bolger, R. Fleet, and Fernley. The lower weights look to be a strong point due to the amount of experience, where as most other teams have freshman filling out this part of the lineup.
The biggest question of the team is in the middle weights, after graduating three-time regional qualifier, Craig Bluemling. Outside of Araujo, and sophomore, Aidan Mcguire, there are very few wrestlers with varsity experience. However, there are plenty of JV wrestlers from a season ago and first years who could help fill out the lineup.
In the upper weights, the Highlanders are just as strong as the lower weights. To go along with Heisler, Rubinsky, and Curving, seniors Luiz Veliz and Phil Strina return to the lineup as well. Veliz is a three-year letter winner, and Strina picked up valuable varsity experience a season ago. Because upper weights traditionally finish the matches, having experience is very important.
With all of these pieces returning and plenty promise amongst the newcomers, the
Highlanders look poised to repeat the success from a season ago.