Remember, Honor, Teach: Wreaths Across America honors fallen Veterans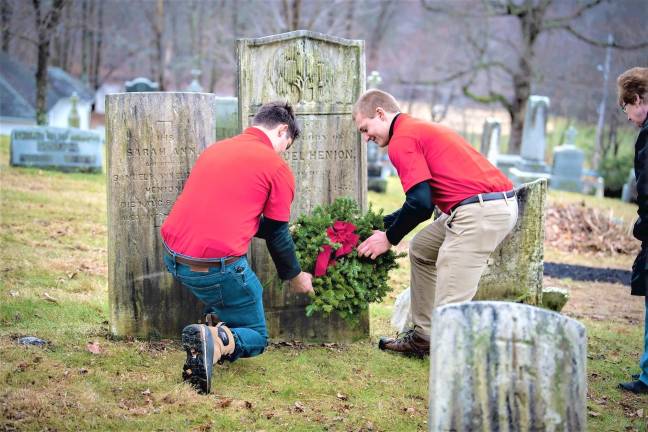 Around the holiday season, it is important to remember the everyday heroes of our lives. Even though we have holidays like Veterans Day and Memorial Day dedicated to honoring our country's fighting forces, we should also consider the reality of their situations; many of them cannot come home for the holiday season and are continuing to risk their lives while the rest of America is protected and safe at home celebrating the holiday.
For this reason, Morrill Worcestor founded the Wreaths Across America foundation in December of 1991. Worcester says he was inspired after witnessing the Arlington Cemetery ceremony as a young boy that is practiced in Washington DC. He instantly felt for the soldiers' hardships of war, and was called to spread the feeling. His organization gathers volunteers to help with their own wreath laying ceremonies every year that take place in every US State, Puerto Rico, and 24 cemeteries overseas throughout the entire month of December.
During these functions, the volunteers strive to cover each Veteran's grave with a cheerfully-decorated wreath out of honor and respect during this important holiday season.
Last year, two of West Milford's local Boy Scout members (Evan Lemay and Matt Hoffman) had organized to be involved in one of these ceremonies. They reached out to the Wreaths Across America Foundation and coordinated whoever wanted to in their troop and in other surrounding troops to help with the wreaths being brought to the West Milford Scout House, and then the actual delivering of the wreaths to different graves in town.
Currently, there are two already existing grave sites participating in West Milford; the Cedar Heights Cemetery and the Macopin Firehouse. Troop 44 laid wreaths at the Presbyterian Church Cemetery last year, as they were one of the troops who chose to be involved in this great event.
Hopefully this year, one of our local Boy Scouts of America troops of West Milford will get involved in this moving experience again, so that more residents can volunteer and spread awareness.
If you would rather help in one of the bigger ceremonies the foundations organizes, you could support the organization on December 14 for National Wreaths Across America Day, where they coordinate the commemoration in the famous Arlington Cemetery as well as 1,600 other places. Or, if you feel inspired to do so, you can organize a brand new spot for a ceremony and spread even more awareness!
Whichever way you prefer to show your support for our US troops, there is an option for either the more hands-on or the behind-the-scenes type of helpers.
During all times of the year, especially around the holiday season, it is our responsibility as citizens and human beings to honor and recognize the sacrifices our troops make each and every day to keep Americans safe and happy.