West Milford and Lakeland pool their resources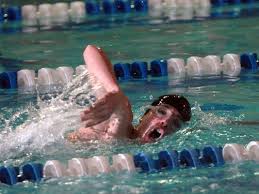 After years in the making, the newly formed West Milford High School Swim Team is ready to dive into the 2019-2020 season. The high school swim team will also be joining with our rival Lakeland to make a much larger swim team all together. The coaches this season are Coach Kebrdle and Coach Telschow from Lakeland, and Coach DiNetta from West Milford High School.
The start of the season is November 11, two to three weeks before the actual winter sports season starts. Both coaches from Lakeland and West Milford state that their main goals for the swim team season this year are to keep everyone interested and excited, and learning how to work together. Both of these goals are important for the future of the WM swimming team.
Coach DiNetta said, "The training the swim team will endure this season is three days a week of pool time and two days a week dryland training, which includes running, and weight-lifting." When the meets first start during the season, there will be less dryland and more pool training, moving to five days a week for one hour at PCTI.
Many athletes who are joining the swim team are enduring pre- training every Sunday night at Spa 23, so they can be experienced when the season officially starts. There will be both boys and girl teams separated into junior varsity and varsity teams.
Whether a swimmer is on junior varsity or varsity she/he will be enduring the same training and going to the same meets as everyone else on the team.
Coach DiNetta and Coach Telschow said, "We would like the team try to go to counties and states this year." The swim team hopefully reach its goal this year and bring home the wins..
The meets for the season will mostly be at home, which is at PCTI.
The cooperative swim team formed after Lakeland's previous contract ended, and the school contacted WMHS seeking to join together for two years.
There will be an equal amount of boys and girls from Lakeland and West Milford on the team. The distribution of how many boys and girls will be on Junior Varsity or Varsity will be decided within either the first two weeks of practices, or the beginning of meets, when the coaches will jointly make that determination.
Hopefully this upcoming season will be a good one for the Cooperative West-Milford/Lakeland Swim Team and will prove to be an exciting joint venture. Maybe there is an end in sight to our rivalry?