The Consignment Assignment
Skylar Knight, Features Editor
November 18, 2019
As a frequent clothes shopper, I can conclude that living in an area such as West Milford is frustrating; there is only one decent store within the twenty minute range, which is the recently put in town TJ Maxx. All I ask for is a half-local, dependable, cheap store where I can go for all my fashion needs that doesn't use up my whole week's paycheck in gas just to get there.
One day, while I was walking to work on Main Street in Butler, a bright sign caught my eye — Now Open! Gail's Closet! My heart leaped. A consignment store right in my area? Only a town over? I thought I had found my saving grace, a teenager's dream. To my chagrin, the joyful and inviting outside of the store did not reflect the experience inside.
The thing that struck me the most disappointing was not the clothes themselves; quite honestly, most of the items were tasteful and appropriately aimed at their target audience. It was everything else that rubbed me as unsettling and made me want to keep every last penny of my money inside my purse.
I stepped into a silent, yet cluttered, room, with absolutely no background noise to fill the tensioned space except for the obnoxious creaks of my weight on the carpeted floor.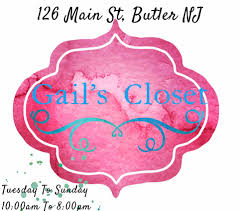 The place was not dirty by any means — there were no stains on the walls or floor, no rips or pulls in the sweaters or other various items of clothing. However the atmosphere feels cold, and as soon as I looked up I was stung by an unwelcoming glare from the only two other people in the store, sitting behind the used-looking counter. They didn't even offer a forced smile or a "Hi, how are you?", but instead they whispered to each other aggressively while their kid laid around on the displays, playing something brutal on his phone. The whole time, I was simply ignored by the owners as I awkwardly maneuvered around the displaced clothing racks and creaked my way about the store.
I tried to view the place in the most positive perspective I could despite the rude looks, driven by my pure desperation for a cute and affordable clothing store within a reasonable distance.
I observed the sizes, the types of clothes, and their prices. Many of the items were not marked with a reduced price, and from the looks I had received earlier, I had no desire to ask the women as to how much they cost. To their credit, though, they did have a women's, teen's, plus size, and kid's section of clothing, but no adult male or young men's clothing. However, the plus size section was completely separate from all the other clothing, as it was down a long narrow hallway that you had to round a protruding corner just to find. If I were a plus size woman, personally I would feel singled out and embarrassed going to a clearly isolated part of the store just to find clothes. Overall, the design of the space itself was peculiar and discomforting, and the layout of their items didn't help the situation.
At this point, I really was trying to keep my head up high, and I decided to check out what the fitting room was like. Of course, it doesn't really matter what the fitting room is like; all there needs to be is a door, a mirror and preferably a place to put your clothes, but that is STILL not even a necessity for my simple approval. This fitting room destroyed all expectations. I walk through the door that was clearly marked "fitting room", flicked on the sketchy light switch, and braced for underwhelming, yet accepting, mediocrity. It was literally a bathroom. Their fitting room is a bathroom. With a toilet and a sink and everything. It was this strange, cornered room with a toilet in the far corner and the sink in the complete opposite one, wedged between two awkward wall slants. And on top of the toilet– without even a lid covering it– there was a pillow resting on the seat. A legit pillow. I'm not sure if they thought that they could hide the toilet in plain sight or disguise it as a festive decoration, but the iconic shape of the thing was a dead giveaway. Nice try, though, Gail. And with this final discovery, I quickly left the store empty handed and escape next door to get my usual iced coffee to help me digest all that I had just witnessed within those dreadful 10 minutes.