Tough season for Girls Lacrosse
Hang on for a minute...we're trying to find some more stories you might like.
The spring season of 2019 was a tough season for the girls Varsity Lacrosse team. Last season they lost important players Taylor Bishop and Siobhan Murray who were the main stars of the team. The girls started the season on a bad foot, losing their first game against Demarest 8-7 in overtime. As the season continued, the team played some of the top competitors in the league, such as River Dell in which they lost 2-14; Lakeland where they lost 1-15; and they got shut out by Ramsey 0-14. Sadly, Zoe Starr, a key midfielder, tore her ACL during the second game. Starr is such a core member of the team, and they suffered without her. According to Coach Christian Conway, "She would have been a huge difference maker in those close games for us." Then through a lighter stretch of the season, the girls were able to secure a clutch 13-8 win over Saddlebrook. Mackenzie Keane led the team with 4 goals and goalie Genna Longaker had 10 saves. The next game came and again, the team played against tough competition Wayne hills and lost 0-12. These heavy losses would normally discourage a team greatly but as Conway said "They could have easily quit giving 100% and c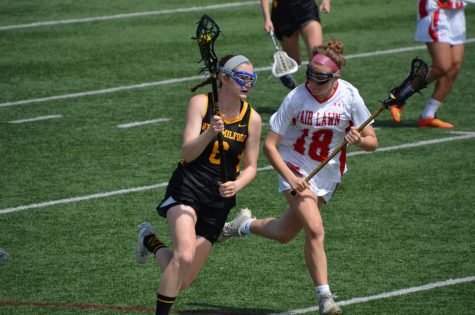 oasted through the season, but that never happened."
The girls came back with a win over PCTI where Keane led the team with 4 goals and Aleah Coscia had 3 goals. In the first round of counties against Wayne Hills, the girls got shut out 0-17. They then got defeated 5-8 at Passaic Valley, and 3-13 against Waldwick. The girls in their last game were able to beat Paramus Catholic 8-7. Coscia led the team 3 goals, Cassi Ruegg scored 2 and Keane, Alex Umansky, and Madison Vacca all contributed 1 goal. Even though the team was only able to obtain three wins they always showed up to every game with determination and intensity.
The seniors will be missed but they are leaving with that same positive energy. Keane (captain) is going on to play lacrosse at Utica and scored a 37 career goals. Alex Butler (captain) is attending University of Delaware and may potentially play lacrosse. Coscia(captain) is attending Montclair with a possibility of playing, and Alexandra Umansky (captain) will be attending Wagner. Longaker attending East Stroudsburg and may be playing in college with a school record of 400+ saves. Tatiana Arrington is going to William Paterson,Teresa Mazzoccoli is going to PCCC, Cassi Ruegg is attending Florida Atlantic University, and Meaghan Knowles is going to South Caroli
na.
As for the future of the program, Conway is already making plans to be successful with the soon-to-be seniors and juniors. They plan to work off-season on stick-work and more conditioning. Conway will also be attending the National Lacrosse Convention to learn more about skill and how to build better team chemistry.