Seeking Glory in NBA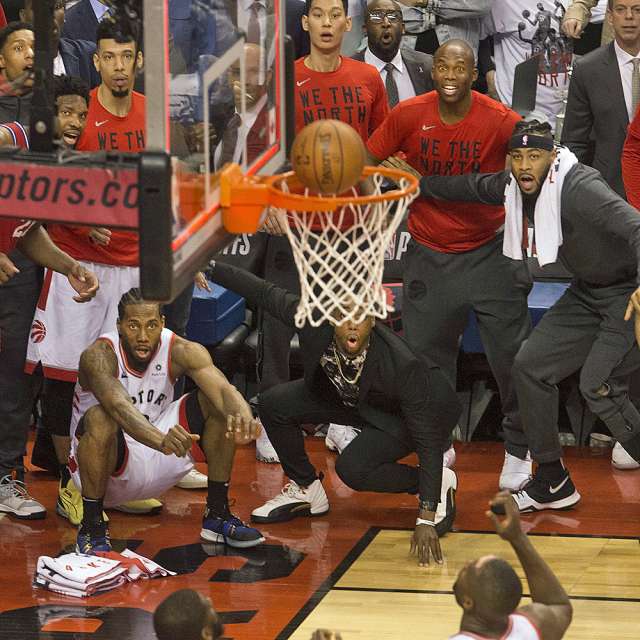 Jimmy Patton, Sports Editor
June 10, 2019
Thirty teams at the start of the season, just two remaining and a single goal in mind…win the NBA Championship. Almost all of the teams have now been eliminated. They now have two things on their minds. The NBA draft and free agency. For the teams remaining bringing a title back to their respected cities is the ultimate goal.
The current two-time reigning champions, the Golden State Warriors are looking for another championship as it is highly anticipated that their roster will look extremely different this time next year. Top three player in the world, Kevin Durant a 6'11 forward with an ability to score at will against any defender. With his height, length, ball handling skills and deadly jump shot, he is a matchup nightmare. Averaging 26 points per game on over 52% shooting and 34 points with 51% shooting in the playoffs, Durant has made a strong claim as the best player in the world and has taken over as the leading option for Golden State. Going down in game 5 against the Rockets with a strained calf, we may have seen KD's last game in a Warriors' uniform as he will be the most wanted free agent this summer. Guards Stephen Curry and Klay Thompson will have to step up on the offensive end of the court, which they are more than capable of doing. Sending the Clippers home in the first round with ease, and crushing the hearts of MVP candidate James Harden and the Houston Rockets once again, Golden State was essentially a lock for their 5th straight Finals appearance.
In the Western Conference Finals the Warriors mowed through the Portland Trail Blazers largely in thanks to Steph Curry showing why he is a former 2 time MVP, raising questions if the Warriors even need Durant to win at all.
Facing Golden State, representing the Eastern Conference will be the Toronto Raptors. After being atop the East for so long, but always underachieving in the playoffs, Raptors General Manager, Masai Ujiri, knew a change had to be made. Nobody knew how much he was willing to roll the dice. Firing coach of the year, now Pistons head coach, Dwane Casey and hiring a no name Nick Nurse was a major transition. The bigger gamble the Raptors took was trading away their best player, and a cornerstone of their franchise for so many years, Demar Derozan to the San Antonio Spurs for superstar Kawhi Leonard. Leonard only played 9 games last season, and to this day nobody is sure if Leonard will stay in Toronto after this season. Ultimately the move paid off in a big way. Leonard averaged 26.6 points per game with over 7 rebounds, on 49.6% shooting in the regular season, he came back and made a statement. He elevated his play even more averaging over 31 points and 8 rebounds in the postseason shooting north of 50%. His performance has led many to believe he may be the best player in the world. In addition to veteran point guard Kyle Lowry, one who can put up 20 points any given night, defensive and rebounding prowess Serge Ibaka, veteran big man Marc Gasol, as well as numerous shooters on the bench, the Raptors can potentially give the Warriors a run. After blowing through the Orlando Magic, sending home the 76ers on perhaps the most dramatic buzzer beater in history, and sending MVP candidate Giannis Antetokounmpo home after going down 2-0, Toronto is not only playing for a city, they are playing for a country.
Even though Golden State is widely regarded still as heavy favorites, Toronto has proven that you can't give up on them, and they would want nothing more than to bring their franchise its first title.