Embracing the reason for the season
WMHS students find many ways to give back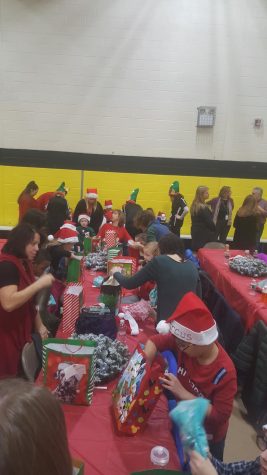 At West Milford High School, there is a year- round sense of giving, but it peaks during the holiday season. Many clubs and students are spending their own holiday season working hard to make other's holiday season just a little bit brighter in some way. This admirable charity exceeds expectations as eight different fundraisers and drives are being held by various groups across the school.
Interact, a service club, is hosting a 'Toys for Teens' fundraiser. The group saw the purpose in acknowledging the least supported charity group: teenagers. The club has placed bins for collection of toys in the main office, and there are also bins at , "Shannon's Eyes on the Pies." and many places all over West Milford.
The National Honor Society is hosting a sneaker collection for the rest of the school year for an organization called GotSneakers? This charity works to provide every person in need with a pair of shoes–there are 600 million people worldwide who don't even own a single pair of shoes. The secondary benefit of this organization is that it helps keep trash out of the landfills and is meant to help re purpose and recycle shoes instead of throwing them away.
The PALs are doing homeroom donations to give to various donation centers like the Guide Dog Donation Center for the Blind. This foundation helps highly trained dogs find people who are vision impaired and need the guide dogs for help. This holiday fundraiser is a start to a years worth of homeroom fundraisers, they are planning to have homerooms support a new charity every month to help continue the sense of giving.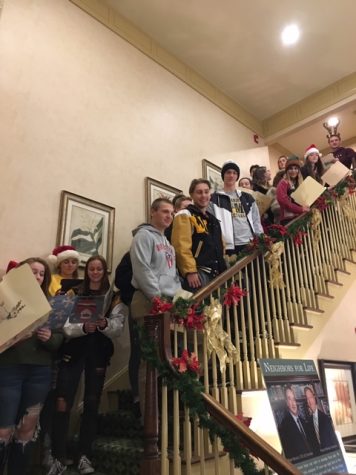 The student council went shopping for toys to help brighten children's holidays. Every year they donate a portion of their funds to buys toys and food to donate to people in need. They dropped their toy donations into the school's box in an effort to do their part.
The Wreaths Across America fundraiser was on December 15th. There, many West Milford community members gathered on a cold windy day to honor the veterans of America. There were many esteemed guests who took part in the ceremony. For example, Diane Ericksen led a prayer about the importance of honoring veterans and how vital it is for young people to recognize appreciate the contributions of the members of our military forces.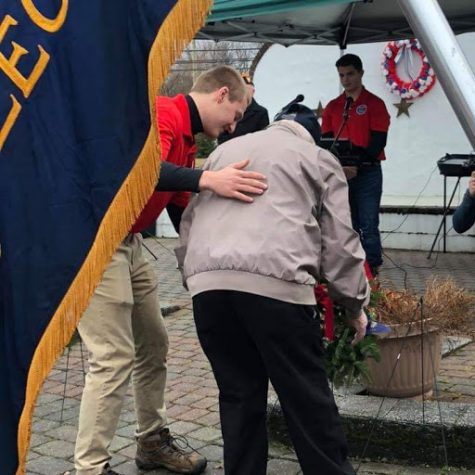 Mathew Hoffman and Evan Lemay then spoke about their journey spearheading this branch of the organization and how they were raised respect for military men and women. Both young men have brothers who are enlisted, thus this project has special meaning for them.
Keynote speaker William L. Nixon then reflected on the character and the admirable acts of charity of Lemay and Hoffman. Both Lemay and Hoffman are planning to join the armed forces after graduating high school.
There were 590 wreaths laid with the help of numerous volunteers from a multitude of local organizations. Hoffman and Lemay coordinated the fundraiser and had homerooms raise money to initiate the student's to give back to the veteran community.
The Girl's Basketball team will be playing in a showcase event at Cresskill High School on January 5, and they are fundraising for the Wounded Warriors Project. This project helps get wounded veterans in need back on their feet by supporting their families and their recovery. The team is representing the core message of West Milford by showing their gratitude to those who have served our country. The boys basketball team hosted a toy drive during their first game. The collection was successful and raised over 100 toys, and they are going to donate them to "Toys for Tots".
The Boy's Basketball team has celebrated the season of giving by making sure they give back even as they play their first games.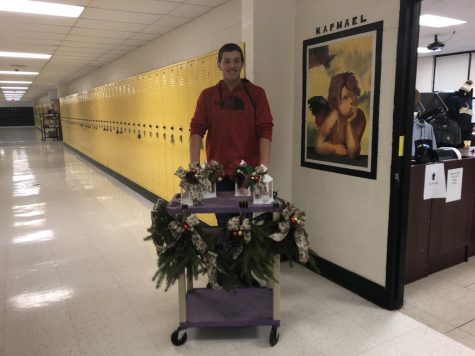 The Highlander Helpers have really expressed the season of giving. First they made cute gifts and notes in which they gifted to those who inspire them. The Highlander Helpers have made sure to show their gratitude this season as well. They volunteered at the West Milford Rotary Club to help work with the special needs student of the district to make crafts as well as spread holiday cheer. They joined the German, Italian, and French, Honor Societies also sang at The Chelsea at Bald Eagle to help spread holiday joy to the older generations. They used sign language to sign the songs. They also made cookies to deliver to The Chelsea Residents. The amount of giving this year at West Milford is inspiring.
The people in the building are able to appreciate the amount of giving each person does.Together as a school there were many toys collected, and tons of holiday cheer spread. The Highlanders have been celebrating the season of giving and are planning to continue this tradition year round.
West Milford hopes to continue the message and spirit of giving and the holiday season by preceding to host and manage charitable events and fundraisers throughout the year.