Black Friday deals are bleak
Olivia Dell'Olio, Opinion Editor
December 18, 2018
After eating hundreds of calories worth of turkey and mashed potatoes during Thanksgiving dinner this year, thousands of Americans left the cozy ambience of post-dinner lounging in exchange for the hectic drama of shopping malls. The infamous discontent with holiday shopping is epitomized by Black Friday, where large crowds gather to rush stores in search of the acclaimed "best deals" around.
The normal debates of Black Friday shopping rarely circle it's efficacy. However, is the rush really worth it? Does Black Friday in fact have the best deals of the entire year?
The few days leading up to Christmas, later accompanied by January "White Sales," often strike the thriftiest shoppers as more valuable than Black Friday deals. Toy stores often release a projected "Hot Toy" list months before the holidays, orchestrating the national desire to get a specific toy through this perpetual cycle. Consequently, these stores are able to inflate prices at their will, but if Christmas draws near with little sales due to unpopularity of toys or their expense, the prices will dramatically drop. Additionally, "White Sales" target home decor, furniture, and bedding in major retail stores like JCPenney or Macy's.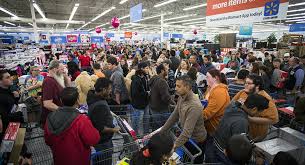 Although the best television and electronic sales are usually on Black Friday, statistics show they don't last. According to the Consumer Technology Association, the average television lasts for about 7.4 years of use, and the average iPhone 4.7 years. However, devices on extreme sales will often be of lesser quality, potentially refurbished or previously returned. This being the case, their full usage time will be shorter, and not worth the money spent on a new device at a wholesale price.
In short, despite popular belief, braving the waiting lines spanning around the block, the rush of people, and commonplace aggression, may not be justified by sales after all. TIME and CNBC alike both report record sales from different companies during varying seasons, but not necessarily on the revered Black Friday. Next year, try planning for the week before Christmas, where prices will really drop for products overstocked for expected, but underachieved, demand, or wait until January for the best home improvement clearances.