Olivia Dell'Olio makes her mark
Kalleen Rose Ozanic, Editor in Chief
November 21, 2018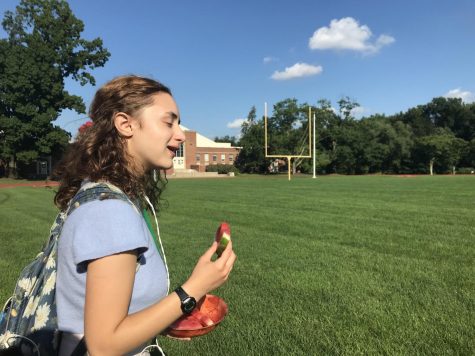 Olivia Dell'Olio, West Milford High School senior, is committed to putting forth her best effort in all that she does. Dell'Olio, who maintains several leadership positions in different high school organizations, also branches out in the community to broaden her experiences and gain life skills.
As Model United Nations President, Dell'Olio organizes and assembles the WMHS MUN club. Dell'Olio keeps her delegates in line, leading them and organizing them as emailer-in-chief. MUN meets twice every month, during which time, they practice delegating, discuss current events, and plan for upcoming conferences.
Dell'Olio is also the co-president of the WMHS PALS, an admission-based club that encourages service and group efforts to improve school and community life. In this position, Dell'Olio pushes her fellow PALS to engage in service and offers opportunities to work at school events. Dell'Olio helps to coordinate outside service events for the PALS members as well.
Another leadership position Dell'Olio maintains is vice-president of the executive student council. In this facet of her leadership, she also organize events, thus her many roles overlap and inform one another, while also allowing students in the school to integrate. Her favorite part of the job is "stumbling across the morning announcements."
In the winter, Dell'Olio is the stage manager for the school play. This year's production is "The Addams Family", for which Dell'Olio is very excited. She loves the play because she get see all the wonderful talent WMHS has to offer while leading the stage crew, a group she calls, "the magic behind the scenes."
Aside from her leadership positions, Dell'Olio also is an active community member. As a student liaison for Community Against Substance Abuse (CASA), Dell'Olio offers a youthful perspective to the organizations efforts. Her contributions are a major benefit to the groups.
Dell'Olio is also a member of the Girls Varsity Tennis team, where she plays doubles. When she is not in school or playing tennis, she loves to binge watch Netflix and read mystery novels.
One of Dell'Olio's favorite experiences was her time as a New Jersey Scholar this past summer. She was the only West Milford attendee, and was admitted after a rigorous application process. It was a meaningful experience, where she learned with a group of 39 other scholars; she is still in contact with some. During her five weeks there, she had to write a thorough research paper, attend pre-college classes each day , and complete reading assignments on provocative novels such as "Brave New World", "Do Androids Dream of Electric Sheep?", "Wired for Culture", "Flesh in the Age of Reason", and "Copenhagen". Other conferences Dell'Olio attended include New Jersey Girls State and the Elks Leadership Conference.
Keep an eye out for Olivia Dell'Olio in the halls and listen for her on the morning announcements!