Review: "Black Panther" tests industry standards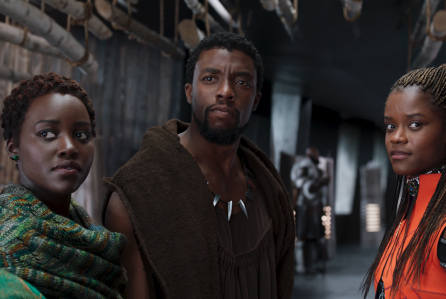 Kalleen Rose Ozanic, Editor-in-Chief
May 9, 2018
In keeping with habits, Marvel Studios released "Black Panther" on February 16 in the US. The film has been hailed as a triumph of cultural representation in the film industry, as it featured an immensely talented nearly all-black cast.
In the age of cinema, actors and film production staff have remained overwhelmingly caucasian, causing the film industry to lack diversity. But the watershed film of diversity this year is "Black Panther". Director Ryan Coogler, himself a black man, has directorial experience under his belt in "Fruitvale Station" (2013) and "Creed" (2015). As the public continues to recognize the lack of diversity in modern media, "Black Panther" stands a major milestone in representation, having grossed over a billion dollars worldwide so far, though its run in theaters has yet to end.
While some mark the release of the groundbreaking Marvel film as a turning point, it is important to notice the great strides that have been made and are still necessary in a world that is based on equality and diversity. And to reflect upon Scott Mendelson piece in "Forbes", while "Black Panther" is an incredible milestone through its mainstream presence, it also begs the question of whether this change will last, as it seem audiences are more likely to commit to popular films than others that raise the flag of diversity; widely diverse films akin to "Black Panther" don't really seem to be on the docket for the rest of this year.
But to acknowledge to significance of "Black Panther" being a high-quality film is truly significant.
"Black Panther" was far more than the typical Marvel installment; though it featured pop culture references (such as memes), undertones of humor, and a powerfully building plotline, it connected to history in meaningful ways. Touching upon the scramble for Africa during the late nineteenth and early twentieth centuries, wherein dominant European powers took their "slice of the pie" from the continent, T'Challa's sister Shuri and Wakandan general Okoye refer to white characters as "colonizers". In this small way, "Black Panther" draws attention to the injurious transgressions against the African race, and gives the characters control of their ethnic history. The final battle between Killmonger (Michael B Jordan) the antagonist and the rightful Wakandan king (Chadwick Boseman) takes place in a literal underground railroad. This allusion to the abolitionist history of America leads one to see the two opposing forces in the film having strong beliefs that they each maintain to be true. But we know that the correct one is held by the peace-loving king rather than the vicious Erik Killmonger.
Perhaps the most overt plot piece marked by the history of slavery is upon Killmonger's death, when King T'Challa offers to save his life despite his trespasses against the Wakandan kingdom. Killmonger declines, saying he will take after his ancestors who chose death by drowning rather than bondage, which is a direct connection to the treachery of the Northwest Passage.
"Black Panther", in all its grand gestures, still remains at its core a film chronicling the persistence of humans and their tenacity, which is every way parallels the struggles of the African American experience. Wakandans in the film are devout to their culture and morals, accepting of others, and willing to make changes to save society. In this way, "Black Panther" becomes a major social, cultural, and political critique.
In light of this, it is time to adopt the heart and soul of the Wakandans and take in active role in reforming our culture.