Painting a picture of Mrs.Gallaugher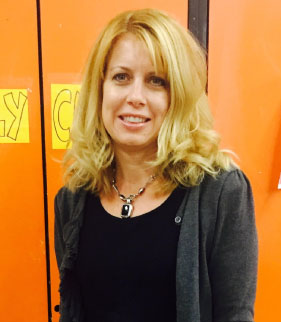 Hang on for a minute...we're trying to find some more stories you might like.
If you're wandering throughout the art rooms during the school day or after school, you're likely to find one of the high school's favorite art teachers, Mrs. Gallaugher, milling about as well.
Gallaugher has been teaching at West Milford High School for 15 years, and teaches multiple classes in the art department, such as Art 1, Sculpture, AP 3D Studio Design, and AP Art History. Despite not being able to picture herself doing any other job (except maybe being a yoga instructor), her original plan out of high school was to attend college for interior design at Berkeley University. She followed through with this plan, and started her career in interior design. Soon after realizing that interior design was not the right path for her, .Gallaugher decided to go another direction. She attended William Paterson University to study visual merchandising. After her short involvement with visual merchandising, she decided to go to college yet again. She attended Marygrove College to get her bachelor's degree to become an art teacher, which she discovered was her true passion.
Gallaugher says that the best part of being an art teacher is being able to make art all the time. On the contrary, she says that the worst part of being an art teacher is reminding her students to turn in their assignments. Being that she is an artist as well as a teacher, her biggest pet peeve is paint brushes not being washed and pencils being broken. When asked if she were to teach another subject what subject would she teach, she told us that she could not imagine teaching any other subject, but if she had to choose another job in the school, she would be a guidance counselor.
Gallaugher revealed some of her favorite things like her favorite restaurant, Buona Notte, in New York City. Her favorite drink is coffee, and she says that she loves every food except for mushrooms and liver. Her favorite tv show is "The Big Bang Theory" and her favorite movie is "Dirty Dancing".
Gallaugher said that if she were to win the lottery she " would buy [her] neighbors' houses and put a big addition on them and go on a vacation. [She]would also put another wing on the high school and call it the 'Gallaugher Wing of All Art Studios'."
Mrs. Gallaugher's favorite disney princess is Ariel, which makes her more excited to be designing the play's scenery this year. She has been organizing students to make props for the show after school and on the weekends.
Though she is working on the play's set, she has also been integral in organizing the annual "Empty Bowls" fundraiser, a charity event hosted by the National Art Honor Society.
Gallaugher is proud of all of the work going into making and glazing bowls. She is happy that the event has become so successful and the sense of community it brings to West Milford.