Lindsey Renna steals the show!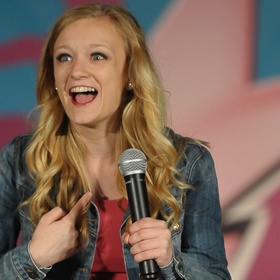 Hang on for a minute...we're trying to find some more stories you might like.
Lindsey Renna, the star of this year's school musical, "The Little Mermaid", sat down with Kelly Brennan, one of the staff members at The Highland Echo to talk about her career as an actress, her future, and her pure excitement for this year's play. Renna has been acting since age six or seven, right from when she auditioned for her first theatre production.
Renna said of her strengths and weaknesses off the state, "I love teaching, I am a great motivator and team member. [However, my academic weakness] is math!" She feels like one of her greatest strengths on stage is her dance background, something that adds to Renna being a triple threat. Renna opened up and said that her weakness on the stage is that, "[she is] very hard on [herself]. Performing comes from [her] heart so when [she] feels [she] did something inadequate, [she] gets upset." She added that she is gaining the strength as she continues in her theater career just to "push through it!"
What many do not know about Renna is that she is what is called a "triple-threat," meaning that she can dance, act, and sing quite well. Renna said that when thinking about her triad of skills, "It makes me so emotional! I get so excited when people say 'triple-threat' and my name in the same sentence!" What many do also not know is that this is the second year that Renna is the lead for the school play. She said that she feels "incredible, so humbled and lucky."
Of all of her four years of acting at West Milford High School, Renna admitted her favorite role is Rosemary from "How to Succeed in Business", but she hinted that that may change after playing Ariel this year! One the other hand, the hardest character for her to get into was Elizabeth Benning from Young Frankenstein, "She is the opposite of me, but I had such a fun time playing an insane goofy role!" Renna also revealed that the cast and crew spend about three months practicing before opening night, perfecting every spin, line, and note for the audience; Renna herself told Brennan that she practices her lines "all the time. Whenever [she] has free time [her] nose is in a script."
When asked about things that go on beyond the curtain, Renna had some interesting answers. She told us that the whole cast is like a big family and sometimes at late night practices, "the cast gets delirious as the hours get later, which [can] actually be fun to see people energized and acting silly." Renna revealed some pet-peeves as well; she told us that she "doesn't like that people think that all performing arts people are snobby, [and that she tries her] hardest to break that stereotype." Her biggest pet-peeve on stage however is "when actors give corrections to other actors [but they're] not the director." The last thing she told us about misconceptions about the theatrical world is how people assume that it is a life of glitz and glamour, but it is actually completely untrue. What many people fail to realize is how many people and how much dedication it takes to make a performance run smoothly. Renna told us that "without the crew there wouldn't be any lights, microphones, or even props [or sets]!"
Renna prefers "princess and lovely girly roles. Not damsels in distress, but determined and kind ladies." She likes to describe her acting style as "lovely" and she shared that three of her dream roles are Eliza Schuyler from "Hamilton", Elle Woods from "Legally Blonde", and Cassie from "A Chorus Line". She also told Brennan that she pulls inspiration from Laura Osnes because of her talent. Renna also shared that to stay positive, focused, and motivated for her role, "[she's] always excited at the opportunity to get cast in a certain role. [She] likes keeping the integrity of the character while thinking 'If I were this character in real life, how would I react to this situation? Why is this character saying this particular line?' It makes all the difference."
Outside of acting, singing, and dancing, Renna likes to watch TV, teach, bake sweets, do "arts and crafts", and do hair and makeup on herself and others. Brennan asked Renna what activity she would take up if she didn't practice theatrical arts, and Renna shared that she's "always wanted to knit, which is weird. A sport I would want to do is ice skating." Renna's favorite Broadway show is currently "Bandstand" and her favorite film is "The Giver". She told Brennan that she wants a shirt that says "Teamwork is what makes the dream work", because "there is nothing stronger than a team working towards the same goal."
After high school, Renna plans to attend a four-year college and achieve a BFA in Musical Theatre. She hopes to book a show on Broadway; which no one would put past her seeing as her talent is skyrocketing with every performance and practice that she does. We wish Renna all of the luck in the world for this years play and in the future.
Make sure to see the play on March 8-10 and support Lindsey and the rest of the cast and crew under the sea!