Chocolate Lava Cake Recipe
Hang on for a minute...we're trying to find some more stories you might like.
Ingredients:
(2/3 cup) dark chocolate
(1/2 cup) butter
2 eggs
(1/4 cup) caster (extra fine) sugar
(1/3 cup) sugar
(1/3 cup) plain flour plus extra for dusting
1 lemon
2 teaspoon honey
A cup of raspberries
Prep work: Put raspberries in a bowl and drizzle lemon juice on them and let sit.
Step 1: Grease a ramekin dish by rubbing some butter on the bottom and around the side. Then dust with flower and shake excess flour out by tilting the ramekin upside down and patting.
Step 2: Next, melt the butter and chocolate in a bowl in the microwave for two 30-second intervals. Then stir the mixture until all the chocolate is melted. Then set aside and let cool down entirely.
Step 3: Mix the eggs and sugar in a bowl using a stand mixer for five minutes until many bubbles appear and it becomes a light cream color.
Step 4: Use a spatula to combine both the egg mixture and the chocolate in a bowl.
Step 5: Next, sift in the flour and fold into the mix until fully combined and thickened.
Step 6: Now add the mixture into the ramekins until the mixture reaches almost to the top. Smooth out with a spoon.
Step 7: Put the mixture-filled ramekins into the freezer for at least 30 minutes to firm up. (This is absolutely necessary)
Step 8: Heat the oven to 350 degrees.
Step 9: Once ready to bake, place the ramekins on a baking tray. Then place the baking tray on the middle rack and bake for 15 minutes.
Step 10: After the cakes are baked, let the cakes sit still until they are firm. After they are firm and cool, place your serving plate over the ramekin and flip the two dishes together, plate side down. Then tap and lift the ramekin so that the cake comes out on the plate.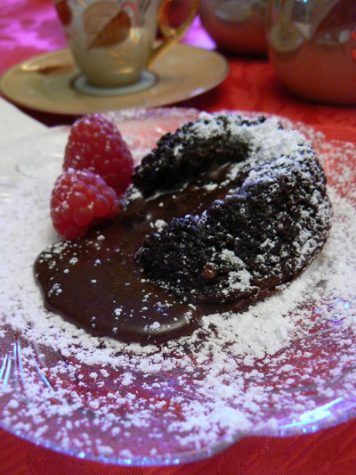 Step 11: Drizzle honey around the plate and place the raspberries on the honey. (this will add a bittersweet surprise to the cake). Enjoy!