Highlander hockey starts slow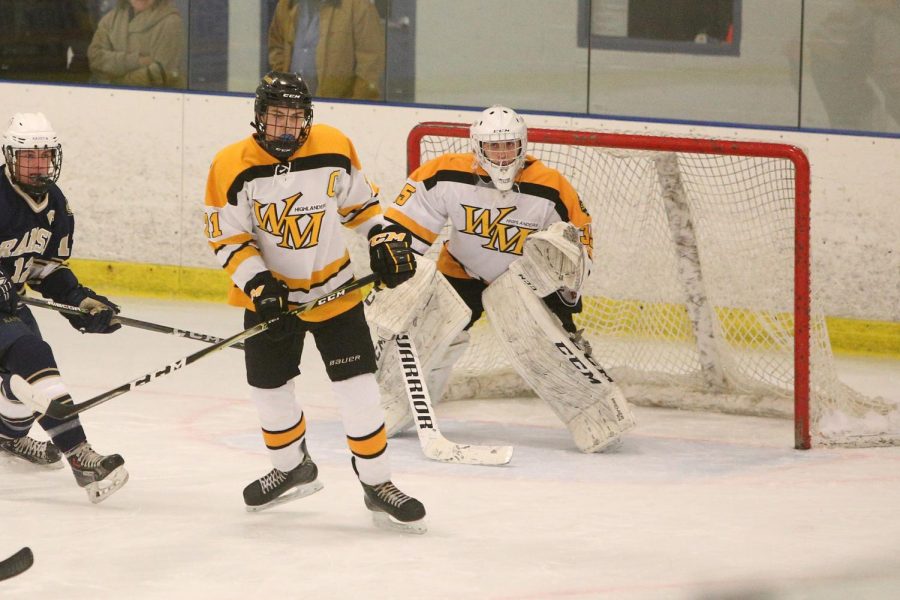 Jared Miller, Sports Editor
December 18, 2017
After coming off of a fairly successful campaign last year, the West Milford Ice Hockey team looks to begin a new season. However, the season may come with some difficult obstacles that the team will need to overcome. At the conclusion of last year's season, a total of nine seniors graduated, including key players that helped the team be as successful as they were. Not only did the team lose many key players from their roster, but they lost their head coach when he joined a newly merged Wayne team. With a new coach and a very different roster, younger players will need to step up and emerge to help bring the Highlanders to another successful season.
The new coach taking the reins this year is Zak Manger. His first action was naming senior Ryan Browne as captain. Coach Manger played goalie for West Milford when he was in high school, and was in the system as a coach for the past six years. Manger is eager to do well in this new position, "I was very excited, you know, I've been with the team for a long time, five years as a volunteer, and one as an assistant coach." He continued to say, "I think coaching a team that I played for in high school is one of the biggest reasons I love coaching this team and [I want] to see the team succeed. Only getting to play two seasons, I'm glad to still be around the team." Coach Manger is hopeful for the outcome of the season, "I see a lot of our younger players getting a lot of ice time and developing the skills necessary to play at the varsity level [in the future]."
The early part of the Highlanders season has not been a success. The team started with a 0-6 record and have been facing injury trouble including broken fingers, legs, and shoulders, along with several concussions. West Milford has yet to face an opponent with a healthy lineup, and it looks like it will be a while until they do.
The Highlanders first game was against a newly formed Wayne Knights team in which Wayne Valley and Wayne Hills were combined into one team. In the game against their former head coach, the Highlanders lost 10-1 to a very good team. West Milford's goal was scored by junior, Jared Miller, and was assisted by senior, Ryan Browne, and freshman, Patrick Smits, who recorded his first career varsity point.
The team's next game was against last year's state champions, Glen Rock. West Milford started out the game strong against a very talented team and struck first, as Ryan Browne scored on a breakaway on a pass from senior, Ryan Pych. Glen Rock then scored two later in the first, taking a 2-1 lead into the second period. Sophomore Nick Ferrari tied the game midway through the second, but the lead vanished when Glen Rock scored on a powerplay near the end of the third. West Milford could not tie the game, and Glen Rock tallied one more as the Highlanders fell by a score of 4-2.
The following two games were both against the Ramsey Rams. In the first matchup the Highlanders lost 9-0. The next game against the Rams, West Milford once again lost, this time by a score of 8-1. Juniors Zach Zweil and Jared Miller recorded points, Zweil scoring his first career varsity goal with Miller putting up an assist on the goal.
The next game was against Ridgewood. Ryan Browne struck first late in the second period with a goal assisted by Jared Miller and Ryan Pych. The lead did not last very long as Ridgewood bounced back and scored with less than a second remaining in the second period. Halfway through the third period Ridgewood scored again, taking a 2-1 lead. They closed the game out with an empty net goal in the last second, making the final score 3-1.
West Milford came out against Ramapo for their next game. After falling to a 3-0 lead in the second period, West Milford bounced back in the third to bring the game within one point, with goals from Jared Miller and Ryan Browne, and assists from Ryan Pych, Ryan Browne, and Jared Miller. The Highlanders fell short, and lost by a score of 3-2, making their record 0-6.
West Milford has definitely had a slow start to their season, however, there is still a lot of hockey for them. The team looks to improve upon their record and make up for their slow start.