"ST2" satisfies fans
Kalleen Rose Ozanic, Editor-in-Chief
November 7, 2017
Fans of the Netflix original series, "Stranger Things," patiently awaited the second season of the show for over a  year, but the hiatus was well worth it.  Fans of the Netflix original series, "Stranger Things," patiently awaited the second season of the show for over a  year, but the hiatus was well worth it.
In "Stranger Things 2," released October 27, we see our favorite characters' roles reprised by talented actors who contributed to the sweep of accolades the first season of "Stranger Things" earned during award season last year.
Aside from the reappearance of Eleven, there were several other new faces in the new season, such as Sean Astin's Bob, Sadie Sink's Max, Dacre Montgomery as Max's brother, Billy, and Paul Reiser as Dr. Sam Owens.
The new series takes sharp focus on Eleven, portrayed by Millie Bobby Brown, who we now know as Jane Ives, and the origin story of her powers and time at Hawkins Lab. We learn of another individual who was subjected to scientific experimentation, Kali, and see how their bond briefly forms through their shared trauma.
The new season actually features a standalone episode revolving completely around Eleven, titled "The Lost Sister." While Eleven's character is expanded in the series, we also see Noah Schnapp reprise his role as Will Byers, where he is more than a plot device. In this second season, Will's character gets some serious screen time, and actually develops as a character. He shows that he is strong-willed in his efforts to solve his problems by himself, though this is a major contributing factor to the dangerous sequence of events that befall the show. Regardless of this being a negative characteristic, anything is better than watching Will roam around the alternate dimension known as the Upside Down trying to avoid his death.
This season had a recurring trend focusing on the pairing of characters in order to let them develop together. Most surprising to me, though, was Bob (Astin),  the love interest of Joyce (Ryder). These two stuck together throughout the series, and Bob helped Joyce overcome her fears of doing what was necessary to save her son.
The end of season one definitely led me to believe that Chief Hopper (Harbour) and Joyce would rekindle their old high school connection, especially in light of the heroism that Hopper displayed in the last season. Yet by the end of season two, it is clear that Hooper and Joyce have a strong bond that is unbreakable, no matter what form it takes. Lucas Sinclair (McLaughlin) also gains a love interest in Max (Sink), despite struggling with his emotions and loyalties with his longtime friends, Dustin, Will, and Mike.
Will and Mike spend most of their screen time together in this season, and play off of each other very well. Their characters are very dependent and have been emotionally scarred since season one's finale. They both learn to move forward and be stronger people with one another's help. When Eleven and Mike are finally reunited, the emotionally-driven pair ferried the last episodes to a hopeful place, where the audience dearly hoped that they would both make it to the end to see each other once more.
Undoubtedly, "Stranger Things 2" closes with a positive (albeit ambiguous) ending. This is exactly what fans have been waiting for since the last season. Though there are still some serious questions left unanswered (Can the Mind Flayer breach the Upside Down? Is Will finally free of evil's grasp?), the second season was thoroughly enjoyable.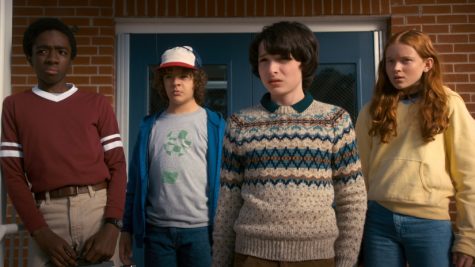 At times it may have dragged, and I feel that this could have been solved by introducing Eleven sooner than the eighth of nine episodes. Other than this, I have no other criticisms. "Stranger Things 2" gives justice for Barb; I'm happy. Onto "Stranger Things 3"!