Review: "IT" doesn't clown around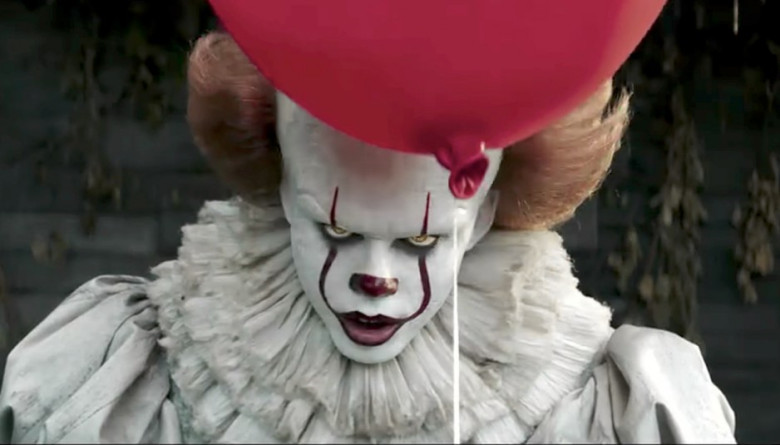 Dominique Basil, Editor-in-Chief
November 7, 2017
Stephen King's 1986 novel "IT" marked the beginning of Pennywise the clown's reign of terror. The horror story became so popular that it (no pun intended) was transformed into a 1990 television mini-series.  As of September 8th, the horror sensation was revived, along with our fears. Stephen King's "IT" and the terrors within it were remade under the direction of Andy Muschietti. While the film was not exactly like the original book or movie, Stephen King fans and critics were not disappointed.  Stephen King's 1986 novel "IT" marked the beginning of Pennywise the clown's reign of terror. The horror story became so popular that it (no pun intended) was transformed into a 1990 television mini-series.  As of September 8th, the horror sensation was revived, along with our fears. Stephen King's "IT" and the terrors within it were remade under the direction of Andy Muschietti. While the film was not exactly like the original book or movie, Stephen King fans and critics were not disappointed. ***SPOILER ALERT! STOP IF YOU HAVEN'T READ THE BOOK/SEEN THE MOVIE***
The remake of "IT" definitely had its noticeable differences compared to both the book and the older film. Due to the improvement in technology and graphics in the film industry, this adaptation of the original was far scarier than the original television series.
Those who have read the book know that poor Georgie meets his demise during his encounter with Pennywise. Pennywise manipulates Georgie into trusting him by offering him a balloon and circus treats, and creating a friendly facade. He then offers Georgie his paper boat that fell into the sewer. As soon as Georgie is close enough, Pennywise lunges out and grabs the child to drag him down into the sewer with him. The older movie did not actually show the attack on Georgie, while the remake clearly showed a much more gruesome, heartbreaking death of Georgie while he screams.
Aside from visual effects, the portrayal of the characters was much improved.  Billy's childhood friend Richie was always the loud-mouth in the Losers Club. In this new movie, Richie was even funnier than before. His vulgar language and lewd comments had the entire theater cracking up. Richie's fear of werewolves was transformed into a fear of clowns, which only enhanced the fear of Pennywise.
Despite the changes to the characters, the film stayed true to its origins by dropping subtle references here and there. Although the order of the series is also different, it is much easier to follow. Rather than jumping back and forth from childhood to adulthood, the renewed series focuses only on one time period. Of course, not everyone enjoyed the remake. Some viewers did not find the film nearly as chilling as others within the horror genre. Those who weren't satisfied, such as Stephanie Zacharek, found "IT"  to be underwhelming, saying it, "Doesn't cut very deep and isn't very scary."
Nearly everyone, however, seemed to find Bill Skarsgård's performance of Pennywise to be spot on. The unforgettable maniacal laughter and deranged smile gave the perfect impression that Pennywise is not exactly human. Skarsgård's performance of the monster will forever remind us to check our sewers for clowns.
Overall, the film resurrects the roots of the original novel and alters it in ways to please both returning and brand new fans to the horror series. The film's scare factor and accuracy were easily able to satisfy almost all viewers, and the movie continues to stay on top at the box office. The movie towers over the other releases of this year with an impressive $189 million. Since this was only the first chapter of the remakes, viewers are waiting to hear the rest of the story of the Losers Club. I can hardly wait to watch the sequel!