"Always Sunny" has a bright future
Hang on for a minute...we're trying to find some more stories you might like.
In the history of "The Echo's" Arts and Entertainment section, there is a general lack of television reviews. With consideration to the significance of television programming on viewers, I wish that I had included more reviews of an element so closely tied to daily human culture. We normally feature analysis of films, but I want to set all that haughty nonsense aside for once; I want to talk about "It's Always Sunny in Philadelphia."        Premiering on FX way back in 2005, "Always Sunny" is a live-action sitcom created by and starring then little-known actors Rob McElhenney, Glenn Howerton, and Charlie Day. The three are joined by actress Kaitlin Olson, and from the second season onwards, seasoned actor Danny DeVito. Thanks in large part to a quick production cycle and the absurdly productive staff, "Always Sunny" has already aired twelve seasons, and is slated for at least two more — at which point it will be tied for the longest running live-action sitcom in American TV history. I bring this up because despite its ubiquity, "Always Sunny" is really unlike any sitcom I've seen before or after.      The show sets itself apart from standard American sitcom fare on sight. The camerawork is gritty and imperfect, the show is filmed exclusively on location with a single-camera setup, and mercifully, "Always Sunny" is laugh track free. The content steps further away, eschewing the white collar focus of sitcoms like "The Office" or "Parks and Recreation" in favor of something less clean, and more decidedly blue collar. "Always Sunny" follows the everyday lives of Philadelphia pub owners Charlie (Day), Mac (McElhenney), and Dennis (Howerton), as well as their employee Dee (Olson), and Dennis and Dee's father, Frank (DeVito). Describing "Always Sunny" in less literal terms is difficult — the show is a sort of 'Adventure-of-the-Week' rollercoaster ride through the lives of five people who couldn't possibly be more terrible. Episodes range from mundane tribulations colored by the near-evil nature of the cast, to the occasional rub up against the absurd and avant garde. The quickest way to understand what "Always Sunny" can be, is to look at a few plots: Charlie gets hit by a car, and the gang tries to garner good favor by pretending to be disabled; the gang finds a baby in the dumpster, tries to raise it, and nearly cuts it in half with a sword they found in the dump; the gang accidentally finds, and then sells, several thousand dollars of cocaine, and nearly gets killed by the mob.  The show's humor bounces all over the place — movie parodies, dirty jokes, character studies, social commentary, black comedy, and blatant absurdism– nothing is off the table. It's the sort of show to make a dead baby joke in the same breath as a benign pun. A lot of television nowadays tries to frame itself as "anti-politically correct", but ends up feeling juvenile and unnecessarily edgy, but "Always Sunny" really does it right in my book. When a character acts racist, or homophobic, the jokes told are almost always at their expense — Mac's bigotry is treated as a character flaw to mine for humor, and the humor comes from seeing him taken down a peg.  That's the real genius of "Always Sunny," I think. The show manages to tell stories about vile people in a strangely charming way. The contrast is where I find the most comedy, and the most originality. I can't say it's a typical show, but that's probably to its benefit. It takes lightning in a bottle to last on TV for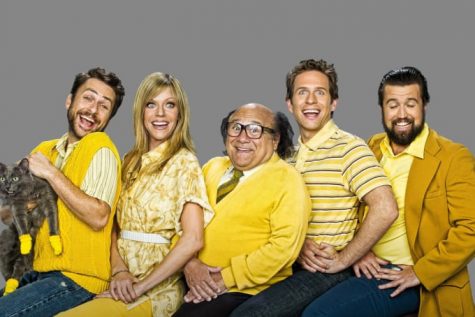 over ten years.