Sweets for your Sweetie
Peanut Butter Rice Krispie Treat Bars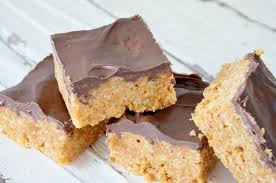 Hang on for a minute...we're trying to find some more stories you might like.
Ingredients for bottom:
1 ½ regular batch of rice krispie treats
2 sticks melted butter (1 cup)
2 ½ cup powdered sugar
1 ½ creamy peanut butter
Ingredients for topping:
2 cups white chocolate chips
4 tablespoons peanut butter
Directions:
1.) Coat bottom of baking pan with cooking spray. Pour batch of rice krispie treats into pan while still warm. Press down until even ½ inch thickness.
2.) Mix melted butter, powdered sugar, and peanut butter altogether until the consistency matches that of cake batter. Pour evenly over krispie bottom, and smooth on top. Let set in fridge while you make the topping.
3.) Melt white chocolate with peanut butter and mix together until even throughout. Pour over top of tray. Refrigerate for about 2 hours (until chocolate is hard), serve, and enjoy!
Recipe provided by the Brennan Family