"Manchester by the Sea" brings audiences to tears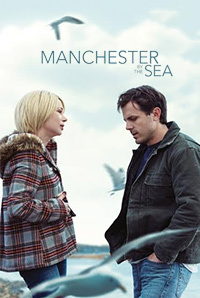 Hang on for a minute...we're trying to find some more stories you might like.
It's Oscar season! While I've never loved the Oscars as an institution (i.e., The insurmountable pro-American film bias that has affected the show since its inception), I do appreciate the incredible wave of big-name art films they bring to theatres in December. It really is a great month to go the movies. Among the most noteworthy of December 2016's crop of Oscar-bait films is "Manchester by the Sea".
Written and directed by Kenneth Lonergan, "Manchester by the Sea" follows janitor and handyman Lee Chandler (Casey Affleck) as he's forced to face his latent trauma and tattered past in the wake of his brother's untimely death. As the only relative left to look after his brother's only son, Patrick Chandler (Lucas Hedges), Lee is dragged back into the sort of family life he'd spent years trying to escape, and spends the duration of the film trying to reconcile past and present. "Manchester by the Sea" is not an easy film to watch: from its foggy grey backdrops and  crawling pace, to its themes of tragedy and death, the movie feels little need to provide relief from its endless torrent of sadness. Despite this (or maybe even thanks to this), Lonergan manages to create a compelling and moving film.
"Manchester by the Sea" lives and dies by its atmosphere and pacing. The movie is full of slow, winding takes, and heavy, atmospheric music — with a sense of dread permeating from many of its scenes. This cold dread seems to cling to Lee, and he carries it from scene to scene, unable to throw it off. For the most part, "Manchester by the Sea" revolves around how people respond to Lee's gloomy history, and how they try to help him move forwards. The notable exception is our secondary lead, Patrick, who serves as both a mirror and foil for Lee. The interplay between the two is wonderful, and makes up what I see as the heart of the film.
Making qualitative judgements of "Manchester by the Sea" is difficult. It's not built to be an enjoyable movie, and it isn't, but in large part, it's still very good. The cinematography is careful and engaging; the music choices are consistently fantastic; and I can't think of a single actor who put on a less than stellar performance. The movie comes to a depressing close, but not without reason. Upon further consideration, "Manchester by the Sea" does offer a few specks of hope which manage to keep things afloat. In large part, it is a takedown of trauma-stories with unrealistically happy endings, and in that lens, the tone and ending of the film seem to fit better.
In the end, I can't easily recommend "Manchester by the Sea". Not because it's a bad film (it is nothing short of great), but I'm painfully aware of how difficult it can be to swallow. The tiny moments of levity aren't really enough to slice through the oppressive atmosphere, and I don't think most of what the film does is universally appreciable. If you're a fan of art films, or at least have a stomach for sad stories, "Manchester by the Sea" is certainly worth seeing in theatres, but if not, it may be best for you to pick another Oscar flick.