Best Netflix shows to binge watch over break
Hang on for a minute...we're trying to find some more stories you might like.
The time for a relaxing winter break full of sleep, food, and Netflix is arriving soon. A time where you can binge watch Netflix is a time of pure happiness. At least, until you reach the dreaded realization that you have watched every movie or series you can find. There are thousands of options from which to choose depending on your interests. There is nothing better than curling up with a snack and a new favorite show or movie.
Here are the top 10 Netflix series that would be perfect to binge watch this winter break:
"Stranger Things" is a science-fiction series centered on single mother, Joyce, and her two sons. When her 12-year-old son, Will, goes missing, she launches an investigation into his disappearance. As they search for answers, they reveal a series of mysteries involving secret government experiments, and a very bizarre little girl.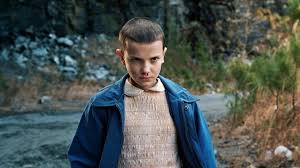 Above: Eleven from "Stranger Things" Photo courtesy theverge.com
"Daredevil" is a series involving the Marvel universe and a man, Matt Murdock, who is an attorney by day, but by night he is a crime fighter on the streets of New York. Murdock, blinded as a child, now uses his brilliant senses to take the law into his own hands in order to protect his city.
"Unbreakable" features a man, David, who surprisingly survived a terrible train crash without any injuries whatsoever. A total stranger provides him with an unusual reason for why he is so fortunate. In light of this newfound information, his life is turned upside down.
"One Tree Hill" is a drama between two half-brothers and a tangled web of friends in a small, action-filled town of Tree Hill, North Carolina. Careers, rivalry, dreams, and love all come into play as all the characters try to find success.
"Making a Murderer" is a documentary of a murder case with suspenseful details and thrilling discoveries.
"The Wonder Years" takes place in the late 1960s to 1970s and tracks the life of a boy named Kevin and his best friend, Paul, as they navigate the sometimes tumultuous high school years.
"Fuller House" is a revamped comedy of an average American family living in San Francisco, first featured in "Full House."
"Grey's Anatomy" is both a heart-wrenching and humorous drama about the hectic lives of surgeons. The lives of their patients and the constant catastrophes that the characters face will make you feel their losses. It is a series that captures the realization of loss and love.
"Orange is the New Black" begins when an ordinary 30-year-old woman, Piper, gets put behind bars for her helping a drug runner smuggle drugs from Colombia. She has to learn to adjust to her new environment with her fellow inmates.
"Limitless" presents Brian, who takes a mysterious drug that enables him to use all parts of his brain. Since he has new brilliant powers, he works with the FBI to solve cases. It is quirky and funny, but also appeals to people who like crime dramas and thrillers.