Long Pond internships show students tangible WM history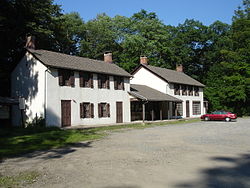 Hang on for a minute...we're trying to find some more stories you might like.
Over the past school year, West Milford's AP US History students took to the town to internship at a local historical site: Long Pond Ironworks. Located along Greenwood Lake Turnpike next to the Wanaque river sits a small cluster of broken down houses and a museum. This is the Visitor's Center for Long Pond Ironworks, and this is where you should go if you want to visit one of our town's most interesting pieces of history.
But, why should you go to Long Pond? This is what I asked myself before completing my internship, and this is something that I now understand. Long Pond is home to a cluster of trails, buildings, and structures, dating all the way back to the 1700s, and it is incredible how much you could learn from our hometown through a trip here. If you come on a Saturday or Sunday, there are likely to be guides happy to show you around the ruins, but you can go whenever you want and look for yourself.
On weekends, the main Long Pond building is open, and inside you can tour the museum. The museum catalogues not only the history of the Long Pond territory, but also the history of West Milford and Hewitt. If you ever wanted to know how West Milford transitioned from an iron forging town to a tourist destination to the community we are today, Long Pond is the best place to go. They are often seeking volunteers as well. Visit them!