Khun Thon Thai is the hidden gem for West Milford dining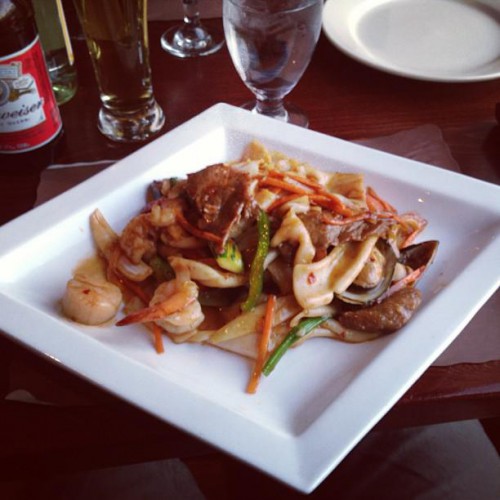 Hang on for a minute...we're trying to find some more stories you might like.
At a glance, West Milford houses a pretty standard collection of restaurants for a small New Jersey town: fast food, ice cream, pizza, Chinese, a diner, and a few more expensive Italian restaurants. If you're like me, and you have lived here your whole life, you probably get pretty bored of these options. Thankfully, the town has a few more choices for anyone looking for a decidedly less standard meal out. Of these options, Khun Thon Thai is by far my favorite restaurant in town.
Just off Cahill Cross Road, behind The Chelsea at Bald Eagle, there is a small strip mall with Khun Thon all the way at the end. The restaurant establishes an atmosphere from the moment you step through the doors. The entryway is lined with dark wood and carpeting, and a number of Thai statues and decorations sit along the wall, all set in a calming, dim light. The restaurant has an air of quality to it you wouldn't expect from a small local restaurant, and that is something it certainly lives up to. I have never had to wait for more than five minutes for a server, even when the restaurant is packed.
The food is fantastic as well. Personally, I'm not very acquainted with traditional Thai food, so I can't say how authentic Khun Thon is, but I can say that all of the dishes that I've tried are unique and delicious. I recommend starting with the Sampler for your first visit, and branching off depending on what you enjoy later. I also recommend any of their soups; the Tom Yum Koong is my favorite. As for entrees, there isn't really a bad choice. The drunken noodles are my personal favorite option, but everything I've had is great. The duck is a different and delicious meat option, the curry is flavorful and intense, and if you want something a bit more standard, there are plenty of fried rice dishes. Just be careful, a lot of the food at Khun Thon is incredibly spicy — it will say so on the menu, and if you want the spices removed, the chef will be happy to oblige. The only lacking part of their menu are their dessert options, but even then, with the portions of all the other food, you probably won't have room for a dessert after your entree anyway.
Overall Khun Thon is a fantastic little restaurant, and is especially nice to have in a small town like ours. Getting to experience foreign food this good in a familiar setting close to home is enjoyable, and not an option that many people have — even in larger towns. It isn't cheap, but it is a great choice for anyone looking for a fancier option to have something unusual. Khun Thon also recently opened a branch in Warwick, which I've heard is just as good as the original West Milford location. Check either out if you get the chance!