My name is…Bacon Double Cheeseburger?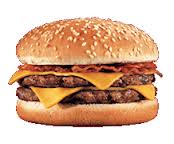 If you could change your name, what would it be? Would it be based off of your favorite book? Maybe a favorite character? What about your favorite sandwich? Well, a British man who was known as Sam Smith is now legally known as Bacon Double Cheeseburger. Apparently he was out drinking with friends, they were discussing names, and soon enough Sam Smith ended up legally changing his name to Bacon Double Cheeseburger. The stupidity of some people amazes me.
But I feel bad for Mr. Cheeseburger. He will never be taken seriously again. How will he even manage to introduce himself to people? What will his kids think of him and their last name? How would he even have kids with a last name like that? I guess someone would have to have a really strong sense of humor to accept him. But Bacon Cheeseburger doesn't care. All he had to say was "I've got no regrets at all." His mother was absolutely furious about the name change, while his father just found it funny. As stupid as it is, I am pretty impressed on how he went through with the name change. I still wouldn't do this, but it's funny to see someone else have a weird name change.