Super Bowl 50 is approaching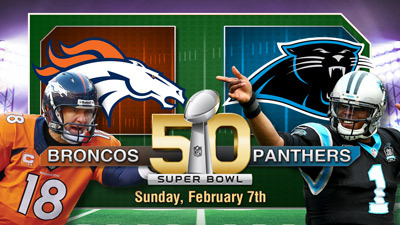 After a long season filled with injuries, strange calls, and constant turnovers, the season is coming to an end and the Super Bowl 50 teams have been confirmed. This Super Bowl will be the Carolina Panthers and the Denver Broncos!
The Panthers tore through the entire season and were originally undefeated 14-0 and ended the regular season with a record of 15-1. Carolina's team was undefeated at home completely and blew out the Arizona Cardinals in the playoffs 49-15! The Broncos had a winning record of 12-4 and came out on top of the Patriots 20-18.
Both teams came out as the best in their division and the Panthers ended the season with the best record of all the teams. Now their helmets will clash in Super Bowl 50 at the home of the 49ers in San Francisco. Kickoff starts at 6:30 on Sunday, February 7th. It has been said that this year's halftime show will be performed by Coldplay and possibly with the special guest of Beyoncée.
So now it's time to plan those Super Bowl parties, start gathering snacks and drinks, buying decorations, and washing your sports jerseys to support the teams in the Super Bowl. Maybe if you are wealthy and lucky enough, you already have tickets to witness the most epic game of the season right in San Francisco. Which team do you think will win Super Bowl 50?