Come by Cactus Pete's!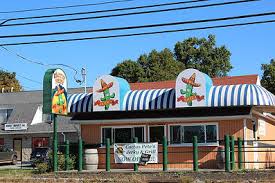 Kalleen Rose Ozanic, Staff Writer
November 4, 2015
"I wore a suit and tie for a living, and I hated it," says Brian Gerri, owner of Cactus Pete's, which one might say is the best jerky place in the world. This statement holds true, particularly after the World Hot Sauce Awards. Brian Gerri and his wife Ushanee juggle the tasks of jerkification and parenting three children, twin girls Krystal and Kiehra, and son Tyler.
"I was a reverse mortgage consultant…for about ten years," prior to opening Cactus Pete's.  "I'm from West Milford. I don't belong in a suit and tie." When his Wells Fargo division closed, Brian needed to do something.
"Being let go from Wells Fargo, we said, okay, well, maybe we should give this beef jerky thing a chance." So he and his wife decided to pursue jerky. Initially working stands in farmers' markets, jerky quickly became their forte. And then Cactus Pete's opened, providing a further outlet for their delicious meaty foodstuffs.
Fast-forward: Cactus Pete's entered four of their flavors into the World Hot Sauce Awards, and all of them placed.  Both their Ghost Biltong (extra hot category) and Teriyaki (teriyaki category) won first place against fourteen other countries. On top of that, their Campfire and Jamaican Me Crazy flavors of the mild/medium and hot categories won third place, respectively. They obviously hit the jackpot with their passion.
Some personal favorite flavors of the owners are Jamaican Me Crazy, Ghost Biltong, Death by Garlic, and Buffalo Wing.  You may want to try them.  Jamaican Me Crazy, attests the author, is delicious.  These four are among Cactus Pete's arsenal of some thirteen flavors.
"We want to do a barbecue flavor," Brian states.
"We want to try different kinds of meat also," Ushanee continued.  Among that list is turkey and pork.  Other than jerky, Cactus Pete's has some kick-butt lumpia.  Lumpia are very similar to spring rolls, and are very, very delicious.  The wonderful sauce that comes with it is the real kicker.  A sweet match made in heaven with lumpia, and it is a must have.  From experience, this author can tell anyone how finger-lickin' good it is.
Jerky (and lumpia) can be found through the threshold of Cactus Pete's on 1939 Union Valley Road and in many farmers' markets.  Check out Goshen, NY on Fridays; Ringwood, NJ on Saturdays; and Warwick, NY and Ramsey, NJ (occasionally) on Sundays.  And if you're in need of a quick fix, order online at www.cactuspetesjerky.com.