Champions League knockout stage kicks-off after exciting group stage
The Champions League brings together the very best of European Soccer. September 14 marked the beginning of the 67th year of the UEFA Champions League Tournament.  Millions of soccer fanatics worldwide tune in to each match, the final often attracting nearly 400 million viewers worldwide each year. Each year, the association calculates settings to determine which European clubs are selected for each annual tournament, ensuring that each season sees an array of returning clubs, along with a variety of new clubs. So far, the 2021-22 season has revealed shocking upsets, surprising transfers, and the endless action to which soccer fans have grown accustomed to for the last 66 years. 
Prior to the start of the season, the summer transfer window saw some of the biggest names in soccer switch clubs. Most notably, Argentine striker Lionel Messi transferred from his lifetime-club FC Barcelona, to French club Paris Saint Germain (PSG), and Portuguese striker Cristiano Ronaldo, who transferred from Italian club Juventus to his former club, Manchester United. Largely considered to be two of the greatest soccer players of all-time, these transfers rocked the soccer world. In his debut back for Manchester United, Ronaldo scored twice in a Premier League win vs Newcastle. Manchester United has since struggled in the Premier League, the highest English soccer league. Since Messi's transfer to PSG, he has struggled with minor injuries. He has yet to score for PSG in the top French league, Ligue 1, but has netted 3 goals for the French side in just 3 appearances. Fans have high hopes for these two superstars as they embark on the rest of their careers. 
This Champions League season has brought a variety of change to the tournament. In terms of rules, the league administration has altered the rules for the later stages of the tournament. After a round robin group stage, consisting of 32 teams split into 8 groups, the top teams advance into a round of 16, then a quarterfinal and semifinal before two teams ultimately reach the final. The round of 16, quarter and semi-final stages are two match "legs," in which each team plays both home and away. After the two matches are played, whichever team has scored more goals advances to the next round. In previous years, if both teams scored the same amount of goals after two legs, the team that scored more away goals advanced. Instead, teams will now have to play two 15-minute-halves of extra time in the event of a draw after both legs. 
Coming into the 2021-22 season, experts had already identified favorites for the title. These include defending champion Chelsea FC from the English Premier League, along with English powerhouse Manchester City FC, who fell to Chelsea in last year's final by a marginal scoreline of 1-0. Bayern Munich, German Bundesliga Champions now nine years in a row, look to clench their fifth Champions League Title. Rounding out this year's powerhouse teams is Messi's new squad, PSG. Having won the French league seven out of the last nine seasons, they are hopeful to win their first Champions League title after losing to Bayern Munich in the final of the 2019-2020 season.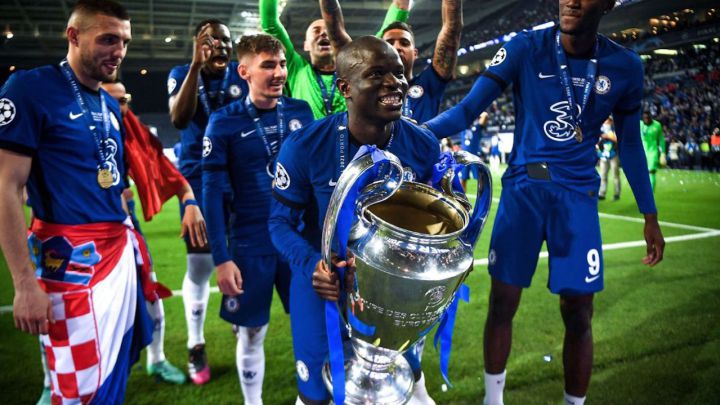 Starting September 14, the 32 teams had faced off against one another in the group stage, which consisted of six match days, and ended on December 8. To date, one of the most notable score-lines came from the September 28 match between Sheriff and Real Madrid. Soccer fans worldwide know the name Real Madrid, as they have one of the most successful histories in all of soccer. The team is one of only three original teams in the Spanish league La Liga that has never been relegated to lower leagues over the league's 92-year-existence. The team has won 66 trophies in Spanish leagues, and in European and worldwide competitions, the team has won an astonishing 26 titles, 13 of those coming from the UEFA Champions League, making them the most successful team in Champions League history. Thus, the 2-1 scoreline in favor of Sheriff after 90 minutes of play shocked the soccer world. FC Sheriff Tiraspol is a Moldavian team from the unrecognized country of Transnistria. The club is just 25 years old, 94 years younger than Real Madrid. This marks the first year that the team has qualified for the Champions League, making them the first Maldivian side to do so to date. Though Real Madrid is not nearly as strong a team as they were years ago, Sheriff's win against such an established club was a feat that earned them the respect of many worldwide.
As of December 8, all six match days have been completed and the vast majority of games have gone just as predicted. Manchester City, Liverpool, Ajax, Real Madrid, Bayern Munich, Manchester United, RB Salzburg, and Juventus lead each of their respective groups. As long as they continue their first place standings, each team will be given entrance into the knockout stage in the Round of 16. Coverage of current standings is among the many types of media coverage the tournament receives. Before each game, fans can head to the internet where they can find an array of information and articles covering topics such as win probability, expert opinions, transfer news, injury updates and more. After games, fans can watch numerous highlight reels, read about player performances, or check out a variety of stats including possession percentages, passes completed, and shots on goal for both teams. These resources are favored by those who can't tune in to watch a game live, as these games are being played in various time zones across Europe.
The Champions League Tournament is one that unites fans from around the world to watch as some of the biggest names in soccer compete. The tournament is one that showcases the highest level of competition, and this 2021-22 season has not disappointed. Historic transfers, upsets, and goals have already made this season one to remember. Tune in to watch the Round of 16 starting on February 15, or the final May 28, set to be played in Saint Petersburg, Russia.