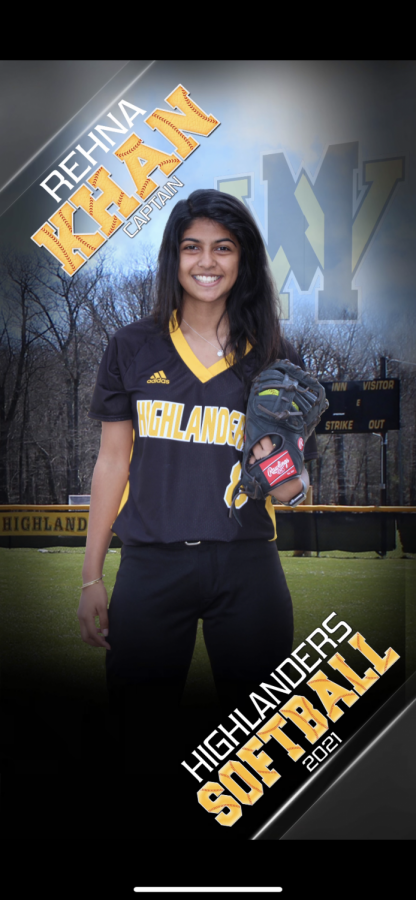 When you look around your classroom, you will see that there isn't one person who is the same as another. You see people expressing themselves in a ton of different ways; from the clothes they wear, to the way they talk, to the vibes they give off to others. But how well do you actually know them? You have gone to school with a lot of these people for years, sometimes even your whole life. How many people have you actually gotten to know? There are so many people at this cool with cool talents or interesting lives. 
One of those stand-out people is Rehna Khan, a senior here at West Milford High School. Rehna is known for being very driven, and when asked what has kept her so focused she answered, "Motivation is important, especially in times like these.  My motivation is doing the things I love while continuing to strive for success. My family has driven me the most. They always push me to be the best I can be, to go after my goals, and not to be afraid of failing." Her outlook is inspiring, and it is great that she can rely so much on her family. 
Throughout Khan's time at West Milford High School she has played tennis and softball. However, she will not be continuing with sports in college. In her free time she likes to hang out with friends and family. She also likes to watch TV. Her favorite vacation spot is Florida, because when she goes, she and her sister get to see their grandparents. 
I asked Rehna what she plans to do after high school to which she replied that she plans to attend Rutgers in the fall and she is going to study business. Her end goal is to get her master's degree and become a Business Administrator. She has good dreams and goals that she can achieve. Khan works hard and anytime she does something she always gives it her all. She makes it one of top priorities to include everyone; it doesn't matter what it is or who it is. Her dedication is hard to match and she makes it look so easy. 
Kahn looks forward to going to college and "pursuing the career that makes her happy." Lastly, I asked her what advice she would give to anyone. Rehna said, "it's never too late to try something new, don't be afraid to just go for it!". She also said, "Quarantine has been a very difficult time for everyone, but throughout the past year I've gotten much closer with my family and friends, which helps me keep going and stay motivated." 
  Rehna is a very outgoing person who tries their hardest to keep everyone involved and pushes people to do their best, especially in sports. She is very easy to approach and get along with everyone. She doesn't do the "clique thing", making her super easy going and a good friend to have. 
Khan is the kind of person who does things when people aren't looking, and when they notice it, it's "what you see is what you get". It was exciting to feature Rehna Kahn because more people should be recognized not only for being good at sports, or for having good grades, but for their character as a whole.  This is why Rehna was the perfect choice– she is the triple threat.