World War I remembered in "1917"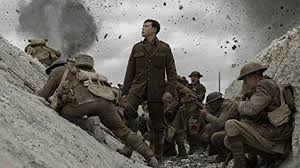 Dennis Smith, Bucky's Editor
March 13, 2020
One of the most memorable and influential wars in history, World War I, was a harrowing time when Americans lost their loved ones in exchange for the protection of the allied nations. World War I was  an unforgettable event which resulted in millions of Americans deaths. "1917" is an action/drama film based on World War I, and is a poignant and terrifying glimpse into soldiers' lives at wartime. This movie is the story of two soldiers who must venture into enemy territory on the Western Front to deliver a message in hopes of stopping an attack by the Germans. With box office totals of an estimated $200 million worldwide, and ratings including a 89% on rotten tomatoes and a 8.7/10 on IMDb, this hour and 59 minute movie has made an impact on audiences around the globe. Star actors including Dean-Charles Chaplen, George MacKay, Benedict Cumberbatch, and Richard Madden. This R-rated film had blown away any movie released since December and until "Birds of Prey" and "Bad Boys for Life" were released it was on top. This film is, without a doubt, a superior film over any other war film in the past. Critic Mark Kermode says, "Mendes's first world war drama plunges the viewer into the trenches, to breathless effect." (https://www.theguardian.com/film/2020/jan/12/1917-review-sam-mendes-first-world-war-ww1-unblinking-vision-one-shot). It has gained attention from people all across the globe and is worth seeing. 
This  90 million dollar film has been raking in awards;  "1917" has won several awards including the Golden Globe award for best motion picture and best director Sam Mendes, and Oscars for Best Cinematography, Best Sound Mixing, and Best Visual Effects. Roger Deakins won an academy award for best cinematographer, and Sam Mendes won Critics' Choice Movie Award for Best Director and an Academy Award for Best Original Screenplay, and more awards including Academy Award for Best Original Score, Best Production Design, Best Makeup and Hairstyling, Best Sound Editing and Best Film Music. It also won the Writers Guild of America Award for Best Original Screenplay, AACTA International Award for Best Direction, ADG Excellence in Production Design Awards – Period Film and the Critics' Choice Movie Award for Best Art Direction, and Best Score. 
"1917" is one of the best shot war films of the decade. This movie was filmed as one continuous shot; the camera never cuts away and there are no mid-scene changes. Sam Mendes based this film off the life of his grandfather, Alfred Mendes,whose stories he heard and inspired Mendes when he was younger. "About 15 minutes into this movie, it dawns on you that this is something uniquely brilliant," Critic Tara McNamara said, making that "Sam Mendes has made one of the best films of 2019." (https://www.commonsensemedia.org/movie-reviews/1917) 
In this movie, two British soldiers receive orders to cross enemy lines and deliver a message, potentially saving over 1,600 troops from a German trap. One of those soldiers includes the main character's brother. As they first get the order from General Erinmore, the two corporals, Blake and Schofield get stuck together, first crossing into enemy lines and getting trapped by a booby trap left behind by the enemies in case others ventured into their trenches. Further into the movie, both soldiers are almost killed by a German plane crashing down on a field where they were both standing.They risk their lives and encounter serious and scary life-threatening situations when crossing enemy lines to help stop an attack. Both soldiers become closer as their journey goes on until one climatic event stops it all, leading to a traumatic situation. 
Critics went crazy for this film. Critic Paul Asay said, "World War I is perhaps unequaled in its horrific brutality. '1917' takes us into that horror and doesn't let us out of it for two hours" (https://www.pluggedin.com/movie-reviews/1917-2019/). This is a truly inspiring and well-done movie, you won't be disappointed, and every scene has you gripping your seat. Overall, this film is a must see and is highly recommended for anyone who likes war and action films.