Streaming wars leads to downfall of an empire
Netflix suffers losses as more services available
Lauren Rivera, Features Editor
November 18, 2019
Netflix was all the rage when it first converted its mediocre renting service into an online streaming empire. People worshipped the concept; they have never had such a dependable streaming service right at the tips of their fingers. Most people relied on expensive cable "Pay Per View" service or brick and mortar DVD stores to play their favorite chick-flicks or annual Christmas movies.
For years Netflix has been on the very top of its game, completely dominating the field. In the year 2013, Netflix released its first original TV show "House Of Cards"; from there the company created more of its own original content. Netflix originals such as "Stranger Things", "13 Reasons Why", and "Santa Clarita Diet" were not just wildly successful, but became the embodiment of Netflix's brand.
Shows like these brought in an estimate of $184.50 billion (www.Macrotrends.com) However after its successes, the well-accredited company started losing money (seen in the graph to the right).
It was only a matter of time until Netflix's streaming crown was stripped away.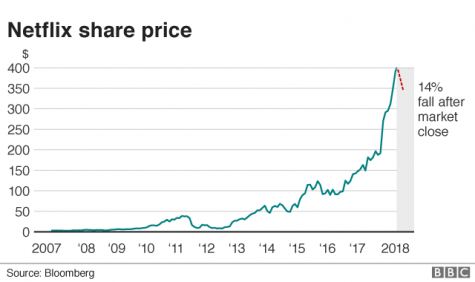 The gradual decline of Netflix gave way to other streaming services taking the lead. Brands like Disney+, YouTube, Amazon Video, and Hulu are on the path to taking the streaming throne. Recently, Disney ended its contract with Netflix: resulting in Disney offering a very competitive streaming service at only five dollars a month, in comparison to Netflix's fifteen dollars a month streaming service.
Hulu now offers not only on-demand movies and shows, accessible at any time, but they also offer live TV, an original concept that cost Netflix greatly.
Both Amazon Prime and YouTube have created their own content, the only difference between them and Netflix is that they are gaining a good reputation because of it, while Netflix declines.
With all of these other companies climbing the ladder of wealth (while passing Netflix along the way), Netflix has attempted to solve its issue by releasing more Originals. Instead of receiving positive feedback, like the shows previously mentioned, the company has been mocked and ridiculed.
Recently, Netflix released a movie, "Tall Girl", it was rated PG and placed in the "kids" category. My sister who watched the movie claimed, "It was the worst movie I have ever seen." Movies like "Sextuplets" or "The Last Laugh" have been ranked as some of the worst movies released by Netflix.
Netflix only has a few options at this point in the game; they can either create a new and improved concept never done before by any other company, or they can put more effort into their original projects–in efforts of creating more successes.