Cesare must say ciao to WMHS too soon
Amico is an Italian word that translates to friend. This fall, West Milford High School students welcomed a foreign exchange student, Cesare Squillante, from Italy to become our friend as he visited our school and learned more about the American culture.
Squillante, a 17-year-old who hails from Naples, Italy, came to America on August 1, 2019. While in West Milford, Squillante stayed with a host couple who had no other children in the district, but who had previously hosted other foreign exchange students.
Unfortunately, due to an unknown family emergency, Squillante abruptly had to return to Italy and his trip to experience America was cut short. Back at home, he lives with his mom and dad, and his 19-year-old sister.
Though Squillante enjoyed West Milford High School, he said he did have a problem with the language barrier. Even with his short time here in America his English rapidly improved as the school year progressed. Generally his English was pretty clear a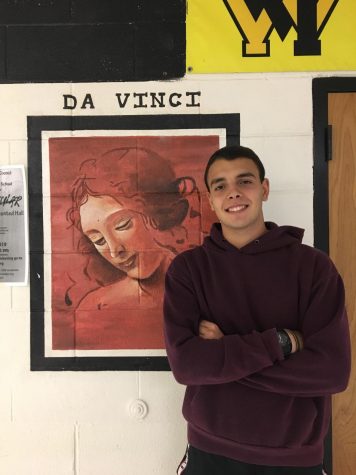 nd understandable and was actually quite impressive.
One of the differences Squillante noted was that in schools back in Italy, teachers are constantly moving around the classroom to help the students when teaching. He says he needed to adjust to American high schools, where teachers stayed up in the front, lecturing the class.
He said WMHS offered more classes and different electives for all kinds of interests and hobbies than his school in Italy did. While enrolled here he enjoyed his math class the most.
While in America Cesare enjoyed watching the movie "Wolf on Wall Street", the show "Breaking Bad", and reading the book "Murder on the Orient Express". His favorite song to listen to was Calvin Harris & Disciples "How Deep Is Your Love".
When he was here, his favorite outdoor activity was rowing boats in the surrounding lakes.
Understandably, Squillante missed many things from Italy…but especially the pizza. He said, "The food just isnt the same here; American is much more greasy."
Back at home his favorite food is pasta with pesto sauce.
Squillante loves the idea of the true American dream and how if a person works hard he or she will have the opportunity to do anything.
His future dream job is to be a pulmonary doctor in New York City; he thinks he will be more successful pursuing this goal in America with rather than in Italy.
Squillante had hoped to be placed with a family in the city because he loved the excitement and opportunity, but overall he had a great experience here in America.